Best In Brunch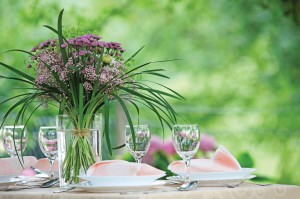 In the spring there are plenty of occasions for brunch; Mother's Day and Easter are the two that come to mind, but there are always baby showers and wedding showers and birthdays that are fun to celebrate. I love the idea of a springtime brunch with friends. In my mind, we look like we're straight out of the pages of a magazine: impeccably dressed, beautiful flowers on a rustic wooden table in my manicured yard… and delicious food that appears out of nowhere!
Sounds good, doesn't it? We can't help with the outfits or the table, but we've got a great plan for a meal that is all but ready the night before! Our easy-does-it brunch menu includes homemade granola with Greek yogurt and berries, Praline Pull-Apart Rolls, a cheesy scrambled egg casserole, and a green salad of your choice.
Hosting a brunch is like having any other party: Invite guests, plan a menu and execute the plan. The only hitch is that with other parties, you have time during the day to execute! Having brunch before noon is a lesson in planning and organization, but with a little of both, it's easy to do. Besides having the food almost ready, it's important to set the table and set out serving dishes and utensils for all the dishes the night before. Label each serving dish with the menu item it will hold, and set up the buffet, so you can get a look at the finished arrangement. Do the same with the bar, making sure the glasses are polished and your ice bucket is clean.
In the morning, your list is simple. Preheat the oven for the casserole and the rolls.  Assemble a green salad. Put the rolls in about 95 minutes before you expect your guests. Then 45 minutes later, put the scrambled egg casserole in. Set out the granola, fruit and yogurt, and then the ice and drinks. The casserole and rolls will still be in the oven when the guests arrive, but it will give you 20 minutes to serve drinks and get everyone settled. Get everyone moving toward the table, then remove the rolls and casserole from the oven…and you've got it!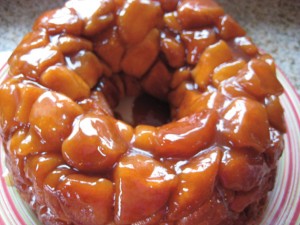 Praline Pull-Apart Rolls (serves 8-12)
Always a big hit, this recipe is like delicious sticky rolls, but much faster, easier and done the night before. Unmold onto a cake pedestal; the finished product is so beautiful that it will be the centerpiece of the table!
1 cup sugar
4 teaspoons cinnamon (divided)
12 tablespoons (1 ½ sticks) butter, melted and cooled slightly
1 2-pound package frozen yeast roll dough (not to be confused with cooked rolls; we use Kroger-brand frozen yeast roll dough)
1 cup chopped pecans
¾ cup whipping cream
¾ cup brown sugar
Mix sugar and 2 teaspoons cinnamon in a bowl. One at a time, dip rolls into butter, then coat in sugar. Layer them in a Bundt or tube pan. Sprinkle pecans on top. Cover the pan with plastic wrap and let sit overnight in the refrigerator (at least 8 hours, and up to 18 hours).
In the morning: Preheat oven to 325. Whip the cream in a stand mixer or with a hand-held mixer. Add the brown sugar and remaining 2 teaspoons cinnamon, and beat to combine. Pour over the top of the rolls. Put the pan on a foil-lined baking sheet (you'll thank me later!). Bake for an hour. Let rest for 10 minutes, then unmold onto a plate, scraping out all the extra caramel on top of the rolls.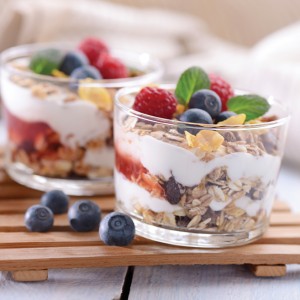 Granola (makes about 14 cups)
Feel free to substitute your favorite dried fruit. Let cool completely before stirring in order to get big clumps.
13 tablespoons butter, divided
1 cup honey
½ cup light corn syrup
1 cup apple cider or water
1 teaspoon cinnamon
½ teaspoon salt
4 cups oatmeal (labeled old fashioned or rolled oats)
½ cup unsweetened coconut flakes
½ cup pecan halves
½ cup whole almonds
¼ cup millet
¼ cup sesame seeds
¼ cup wheat germ
1 pound dried fruit of your choice (mix and match; I like raisins, cherries and cranberries)
Preheat oven to 300. Grease a cookie sheet with 1 tablespoon butter.
In a small saucepan, heat remaining butter, honey, corn syrup, water, cinnamon and salt.
In a large bowl, combine oats, coconut, nuts, millet, sesame seeds and wheat germ (no fruit yet!). Pour the hot honey mixture over the oat mixture and stir to coat completely. Spread the mixture on the prepared sheet and bake, stirring every 15-20 minutes for 45 minutes, until golden brown. Remove from oven and cool. Add dried fruit and stir to combine. Serve with a generous dollop of Greek yogurt, some fresh berries and a drizzle of local honey. Granola can be stored in an airtight container at room temperature for up to one month.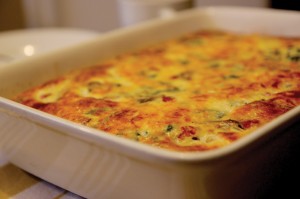 Scrambled Egg Casserole (serves 8-12)
I had a casserole like this at a friend's house a long time ago, and I've worked to recreate it. I like serving this instead of Cheese Strata (see HOME's Early Spring 2015 issue for that recipe) when I'm serving another bready item for breakfast (like the Praline Pull-Apart Rolls). It's flexible too—you can substitute sautéed peppers and onions for the spinach and roasted tomatoes, and bacon or sausage for the ham.
5 tablespoons butter
5 tablespoons flour
3 cups milk (warmed in the microwave or on top of the stove)
2 cups cheddar
18 eggs
Salt and pepper
1 tablespoon butter
1 cup defrosted frozen, chopped spinach, drained well
6 plum tomatoes, cut in half, drizzled with olive oil and roasted at 400 for 35 minutes
1 cup diced ham
2 scallions, chopped
Butter a 9×12 ovenproof casserole dish.
In a medium saucepan, melt 5 tablespoons butter. Add the flour and whisk to combine. Cook over low heat for 2-3 minutes. Add the warm milk and whisk until smooth.
Cook another 4-5 minutes, stirring, until thickened. Add cheese and stir to melt. Season with salt and pepper. Remove from heat and set aside.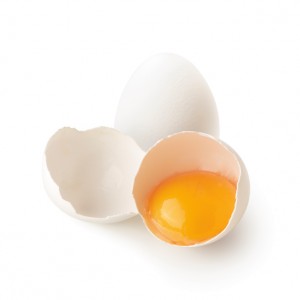 In a large bowl, whisk eggs. Season with salt and pepper. In a large skillet, melt the butter. When the butter is hot, add the eggs and reduce heat to medium. Scramble the eggs slowly, until barely cooked and still a little wet-looking. Mix in the cheese sauce, spinach, tomatoes and ham and stir gently, being careful not to overmix. Put in the prepared dish, cover with foil and refrigerate overnight. When ready to bake, preheat the oven to 325. Bake, covered, for 20 minutes, then uncovered for another 10 minutes. Garnish casserole with chopped scallions and serve immediately.
Brunch Recipes, Granola Recipe, Praline Pull Apart Rolls, Scrambled Egg Casserole