Benches: Front and Center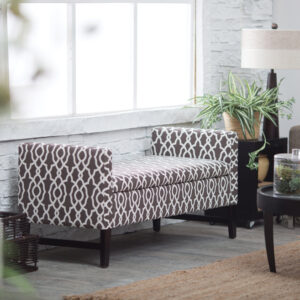 Modern homeowners ask a lot from our furnishings. We want style, comfort and functionality all in one. Oh, and versatility is important too—because we like to have options. We don't want to be tied down to a piece that can only deliver one thing in one room. We don't mean to sound fickle or demanding, but we just can't help ourselves, since we are inspired daily by everything from magazines (ahem) to television shows to Pinterest.
Perhaps the most versatile piece imaginable, one that can find a place almost anywhere in any home, is the bench. This humble piece dates back many centuries as one of the earliest, most primitive pieces of furniture. The bench was the common form of seating back in the days when chairs were reserved for nobility and other people of status. Really just a stool but crafted to seat more than one occupant, the earliest bench was a simple plank supported by solid ends, but over time became more elaborate, with turned legs and other decorative embellishments, sometimes even with side and back support. Versatility has always been important, however; centuries ago, the simplest benches were often made wide enough not only for sitting, but also for sleeping and eating. Talk about multitasking!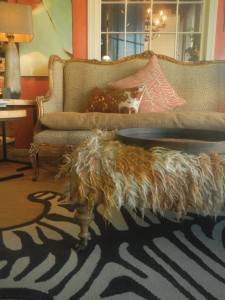 Today's benches have evolved into pieces that are part workhorse, part style statement. No matter what design styles have evolved over the years, a bench is likely a part of the oeuvre, and just about any look is available now in our eclectic design world. There's a look for every taste: French country/shabby chic benches feature rubbed finishes and carved florettes and other embellishments; arts and crafts benches are minimalist and linear with a rustic twist; midcentury modern pieces will feature boxy tops and sleek legs, often incorporating leather and metal. Bench seats can be made of hand-woven rush or cane, upholstered with textiles or needlepoint designs, animal hides and fur…if you can create with it, there's probably a bench made of it.
A bench can be many things: it can be a surface providing display or storage space, it can provide flexible seating, or it can be used as a way to balance out an empty wall or fill a gap in your furnishings wardrobe. And while a chair is a commitment (it's really just for sitting), a bench can assume whatever responsibility it needs to for the task at hand. Here we look at the many ways your home will benefit from this centuries-old piece.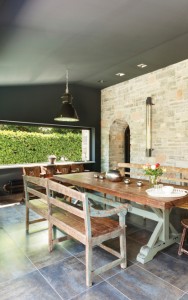 A Place to Sit, to Store
What's the first thing we do when friends come over? Offer them a refreshment and a place to sit. We are forever looking for somewhere to sit down. And benches provide flexible seating that chairs just can't provide. While chairs are primarily designed for one occupant, benches can accommodate as many as will fit—depending upon the level of familiarity your guests have with one another. Something about a bench just says cozy up, all are welcome.
Families, particularly those with young children, may enjoy a bench at the kitchen table where "the more the merrier" rings true. Kids in particular won't mind the absence of back support—probably because they won't be at the table very long regardless of what seating you provide—and will enjoy the novelty of piling in for family supper with the cousins. Benches also make game night easier!
If you want to work in a bench at your kitchen or dining table, keep in mind that backless seating is easier for youngsters who won't think twice about back support or climbing in and out of seating with three of four people lined up on it. Some may say that benches at the table are a little like high heels—they look fabulous but you don't want to wear them for too long. For this reason, and for visual balance, keep a few proper chairs in the mix, but do consider mixing and matching. Incorporate a bench on one side and chairs around the rest of the table, or benches on either long side with his and hers hostess chairs at the ends. Mix wood with upholstery; if your chairs are wooden, consider a bench with a top upholstered in snazzy vinyl textile (Kravet makes spectacular lines of faux leathers and performance fabrics, for example), or a washable slipcover to manage spills. If you are adding a bench in a wood finish that's different from your existing table and chairs, consider painting it a fun color to make the mismatch more intentional. The options for paint finishes today are as extensive as the items ready for painting.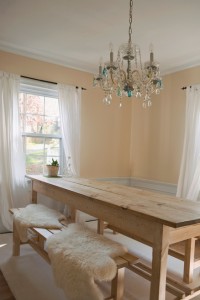 Benches have a place in the dining room too. Particularly in a dining room with a view, there is something to be said for the clear line of vision unhampered by chair backs. Again, keep in mind that adults may want to relax a bit more, so consider a settle-style bench here for a comfort. (A settle is a bench that has evolved to include a back, but isn't a proper couch.) Just make sure that the dimensions of the bench allow it to be tucked under the table legs.
While an upholstered chair is a commitment in the design plan of a room, a bench can be moved and restyled on a whim. If you need to pull chairs in for a committee meeting in your family room, you can count on accommodating more than one person on a generously sized bench. A bench can also do double-duty as a coffee table—if it's upholstered, a sturdy, stylish tray can provide the surface you need to place your drink. A smaller bench can also serve as a side table, styled the same way as a coffee table. If your family living space is a great room, a bench can also be a nice way to divide the room into conversation areas. A small bench in front of the fireplace makes a pretty scene and can easily be moved out of the way when a fire is blazing.
Don't forget your piano bench! If you are lucky enough to have a piano, use the bench as an opportunity to add a little flair to your space. Have a slipcover made to introduce that fun new fabric you've been eyeing, rather than wait until you can reupholster your favorite chairs or get new draperies.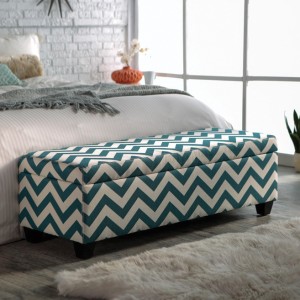 In the Bedroom
The bedroom—whether it's the master suite, the guest room, or a child's room—is another perfect spot for a bench. At the foot of the bed in the master suite, a bench can serve as a footboard, balancing the look of a headboard-only bedding arrangement, while providing another place to add a touch of softness and comfort. Make sure the bench is proportionally scaled to the bed; a bench that's too short for a king bed, for example, will be lost; one that's too long for queen will protrude in unsightly and possibly painful ways (if you stub your toe when you stumble out of bed, for example). Here it serves as a place to sit while you dress, or can act as a bedside table, holding books and a throw. Drape a sheepskin and arrange your prettiest coffee table books for a stylish tableau.
If you're going for drama and comfort, consider a boudoir bench, with upholstered, curved sides, either at the end of your bed or along the wall near a closet to provide another dressing area or place to relax.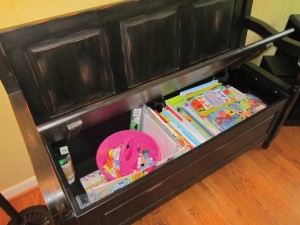 In the guest room, a bench at the foot of the bed or even against a wall functions as a luggage rack, a place to sit, and a surface for reading material, a welcome basket full of toiletries or snacks for your guests, or extra blankets. In a child's bedroom, a bench at the foot of the bed can hold the stuffed animal menagerie. Choose a model with cubbies and baskets beneath the seat for a great storage, or go with a lidded storage bench (just be sure it includes safety features, like ventilation and a slow-close lid). During playdates the bench will become a doll bed, a stage, a desk…whatever the children dream up that day. If your child's room has twin beds, consider small, matching benches at the end of each for a symmetrical, balanced look.
Bathrooms too can play host to a bench. In the kids' bathroom, you can sit on the bench while bathing the little ones; in the powder room it becomes a place for your guests to set their things while they freshen up.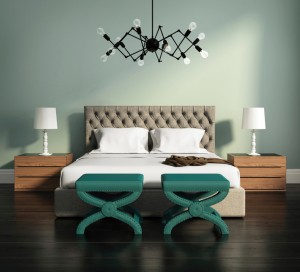 Eye Candy, Too
If you are a treasure hunter, then estate sales, thrift stores and even yard sales may turn up an old bench on which you can work your DIY wonders. With paint, a glue or staple gun and some fabric, tacks to mimic nailhead upholstery, and a few yards of trim, you can create your own designer look. You can find lots of bench DIY upgrade projects online. The "X Bench"—so named for the X shape made by the legs—is a popular part of our design repertoire right now, possibly because it is crafted in so many different looks: completely upholstered, wooden legs with an upholstered top, embellished with hardware and trim…there's a look for every room and they are often easy to find inexpensively "off the shelf." You can make this ubiquitous trend your own by painting its wooden legs an unexpected color, making a slipcover for the seat, or reupholstering in custom fabric. Add an extra layer of foam to the seat for a more luxe look. These benches look great in singles or pairs in so many spots in your home: tucked under a console in your foyer or family room, at the foot of any bed (in pairs for anything larger than a twin bed), or
even in the bath or powder room as a vanity bench.
If rustic chic is your thing, consider incorporating a vintage church pew—these relics work well in a mudroom, foyer or other empty hallway; their long and narrow seat also provides useful space both on and underneath for baskets, adding a touch of history, visual interest and a conversation piece to boot.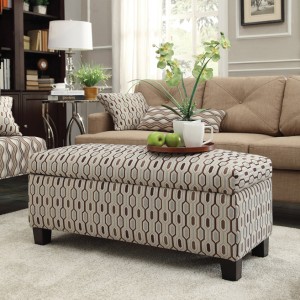 If you are into a more glamorous look, do a quick internet search and check out fabulous pieces from design greats like Kelly Wearstler (she makes a scrumptious ruched leather piece) and Jonathan Adler (see his fluffy Mongolian-sheepskin-topped confection) for inspiration. Legs made of Lucite, metallics in all finishes and intricately shaped like Greek keys…the market for a snazzy bench has never been richer.
If you didn't even realize that you needed a bench, maybe you do now. It's probably the most versatile piece you can add to your home furnishings, for sitting, storing, and making a statement. A bare entry wall, the foot of a bed, the kitchen table…see if you can hear these spots in your home just calling for a bench.
Bench Upholstery, Decorative Benches, Kitchen Table and Benches, Ruched leather benches, Storage Benches, Wooden Benches, X Bench