Bath Baubles: Easy Updates for Your Bathroom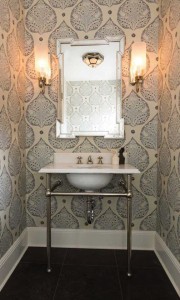 According to the National Kitchen and Bath Association, the average mid-range bathroom renovation costs more than $17,000 and—unless homeowners are extremely handy—requires the use of a general contractor. The average bathroom update, on the other hand, can cost as little as $1,000 (or less!) and be accomplished by do-it-yourselfers.
A down-to-the-studs renovation is the obvious solution to many homeowners' bathroom woes. A renovation can solve everything from a bad layout to ongoing water and mildew issues to faulty appliances. But when a bathroom is completely functional—just ugly and outdated—choosing to renovate can be a tough call for homeowners to make. It becomes harder to justify the cost of a full renovation, and it can be equally difficult to envision the impact a few simple and inexpensive updates can have on their bathroom's big picture. Here are a few ideas to inspire that update-over-renovate mindset.
Upgrade the Fixtures
Sarah Baker is the showroom manager at Ferguson Bath, Kitchen and Lighting Gallery in Roanoke. She says that when people come into the store, wanting to do small bathroom updates, they almost always start with swapping out their hardware and accessories.
"We do a lot with chrome and a lot with polished nickel," says Baker. "They're popular with designers, and they're just clean, timeless finishes."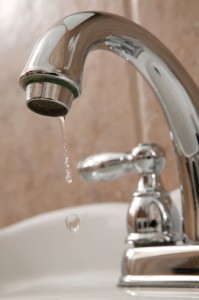 Swapping one faucet out for another is an easy Saturday afternoon project, assuming both the old and new faucet are comparably configured. If purchasing a new basin isn't in the plan, it's important to choose a faucet type that will work with the sink's existing drillings.
Towel rings, bars and hooks, along with toilet paper dispensers, are all relatively inexpensive and can be switched out to match the finish of the new faucet. Cabinet hardware is another place where the new finish—be it chrome, nickel or oil-rubbed bronze—can be incorporated. Tubular or flat-edged pulls give bathrooms a more contemporary look, while footed pulls are more traditional. For an eclectic accent, consider mixing in glass knobs.
Lighting fixtures are also easy to upgrade and can make a big difference in the bathroom's overall appearance. Baker sees customers gravitating toward sconces, which are great complements to overhead lighting, and even mini-chandeliers. Having the right amount of light is key to making a bathroom feel airy and inviting, so it's worth adding more light if the room is windowless or dark.
Baker warns homeowners to pay close attention to the color temperature of the lights they install. "The higher the Kelvin temperature of the light, the more blue the light will be. It can feel institutional and won't render very pleasant coloring on your skin," says Baker, who recommends purchasing lighting that measures between 2700 and 3500 degrees of Kelvin. "Compact fluorescent bulbs are energy efficient and they don't cost a lot of money, but they're going to change all the colors in your bathroom."
With some research, most homeowners can tackle replacing one light fixture with another. Just be sure to cut the bathroom's power off at the fuse box. For new installations, a licensed electrician should be able to add a junction box and accompanying light switch in a couple of hours.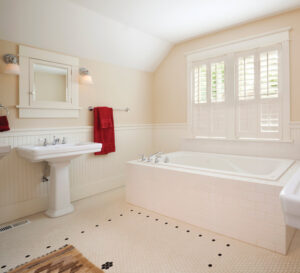 Deck the Walls
It's been said before and it will be said again: never underestimate the power of paint. For bathrooms, look for a mildew-resistant paint. Most brands sell a specific paint product just for bathrooms and kitchens. It's a good idea to use a primer on the walls, particularly if the bathroom has had mildew issues in the past.
If it's a powder room that's getting made over, where moisture is less of a concern, wallpaper might be the right solution. Wallpaper has come a long way in the past few decades. Designers like Kate Spade and Amy Butler have jumped on the wallpaper train and the results are striking graphic designs in vibrant colors.
"The powder room is the bathroom that most people who come into your home are going to see," says Baker. "We definitely see people putting more thought into its presentation."
While the paintbrush is out, don't overlook that old oak vanity. Painting the grainy wood a bright white or a cool gray will instantly make the bathroom look 20 years younger. To make sure the cabinet is adequately prepped, many homeowners will remove a door and take it with them to their local paint store. Painting pros give great advice on sanding, priming and the right kind of paint to use for the job.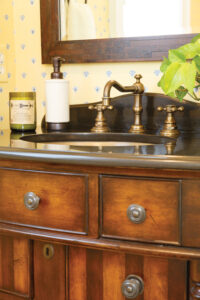 Build in More Storage
While it's easier to design new storage solutions with a full bathroom renovation, it's not impossible to build in some extra space with an update.
Think about how to incorporate shelving into the bathroom's existing design. Floating shelves can be installed over a toilet and are easy to find at many retailers locally and online. If the bathroom is big enough, look for an antique dresser that can act as a de facto cabinet.
Medicine cabinets—while not nearly as popular as statement-making mirrors—are a good option for homeowners who
need more storage, though Baker says her customers often run into problems finding new recessed cabinets that will work in older homes.
"Often, the studs are very close together, so it can be hard to fit another recessed cabinet in the same space. A surface-mounted cabinet can be an easier fix," she says.
Even existing cabinetry can be retrofitted to provide better storage. Consider purchasing tray dividers for drawers as well as rollout shelves for under-sink cabinets. Or add a skirt to a pedestal sink and tuck baskets beneath, providing softness, interest and extra storage in one fell swoop.
One space-creating solution people often overlook is their shower curtain rod. Most retailers now sell shower curtain rods like the ones in hotels. They're curved, and the result is more arm room in the shower.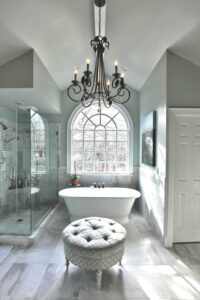 Don't Forget Décor
With the fixtures installed and the paint dry, it might be tempting to call the bathroom update finished. Resist the temptation, and keep shopping!
A new shower curtain and a non-skid area rug that ties the bathroom's color scheme together will go a long way in refreshing the look of your bathroom. Don't overdo it on the tchotchkes, but do shop for a vase, some glass jars or a pretty ceramic tray that can lend the bathroom a sense of attention to detail. And remember, a bathroom update provides the perfect excuse to pitch those old ratty towels and shop for nice new ones.
Look for art that ties the bathroom together. In a bathroom with muted colors, a bold, bright painting can make the room pop.
"In Roanoke, we don't see a ton of super-contemporary bathrooms," says Baker. "We love the Martha's Vineyard look, with lots of cool grays, whites and light blues."
bathroom renovation, Ferguson Kitchen Bath and Lighting Gallery in Roanoke, fluorescent bulbs, mildew-resistant paint, Powder Room, tchotchkes