Baby's Nursery Transformed into Colorful Jungle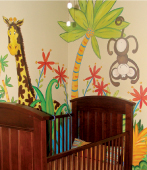 As a decorative artist, Maria Driscoll is constantly creating new rooms for her clients. But when it came time for her to create a special nursery for her first baby, she felt a new kind of challenge as her own toughest customer! She wanted a fun room full of color and warmth in which her own little boy could rest, play and let his imagination fly. In true do-it-yourself spirit, Maria tackled this project with a little inspiration, lots of imagination, and rainbows of colorful paint.
Maria was first inspired by the beloved classic "Where the Wild Things Are" by Maurice Sendak. She loved how, in this story, Max's room turns into a forest by way of his imagination. But instead of Max's forest, Maria has created a jungle for her son Andrew.
"I wanted the room to be fun and playful and full of color," she says. She used Sherwin-Williams paint for the blue ceiling, as well as the neutral background color that allows all the vibrant colors from the mural to really "pop," she explains. "Ever since Andrew came home, he has noticed the shapes and colors in his room. I have loved watching him as a baby looking at the animals in his room and seeing him smile. Now he is two, and loves his room and says good night to his animals every night," she says. 
But even if you're not a decorative artist like Maria, you too can add decorative touches to any child's room with paint and some very simple tools and techniques. Maria suggests finding your inspiration from fabric, which can help you create a color scheme. Even the most nonartistic types can create stripes and polka dots on the walls, as well as work with stencils available at craft stores. Maria also suggests using a projector to beam an image onto a wall that you can simply trace and copy. The possibilities are endless.
It's a great time to take on do-it-yourself projects like Maria's. And please, once you do, share your project with Roanoke Valley HOME so that others may be inspired by your handiwork! Send the details of your do-it-yourself home and garden project to info@rvhomemagazine.com with "I Did It Myself" in the subject line. Please include your name, phone number, email, and if possible, high-resolution photographs.