AT HOME WITH ELAINE STEPHENSON | Interior Designer's Abode Features Antiques and Original Art
The ranch style home is at the heart of Cornwallis Avenue, one of the most sought-after streets in South Roanoke, prized for beautiful homes, low street traffic and walkability to the local elementary school. When Elaine Stephenson and her husband Bill saw the house twenty-seven years ago, they knew it was the one.

"My husband grew up in South Roanoke, and we knew we wanted to raise our family here," says Elaine, who was drawn to the home's gently sloping yard, natural light and "good bones"—though the interior would need some renovating and a designer's touch. Elaine, who has owned and operated Elaine Stephenson Interiors in Roanoke since the 1990s, was then a budding interior designer and excited for the challenge.
Art and design have always been a part of Elaine's life—her mother was artistic, making custom hand-painted lamp shades, and her daughter is an interior designer in Raleigh, North Carolina. "I always knew I wanted to be in the [interior design] field, but I wanted a traditional liberal arts education first," Elaine explains. She has an undergraduate degree in art history from Hollins University, and her appreciation for art is obvious. The Stephenson home brims with original works from several celebrated local and regional painters, such as Mary Boxley Bullington and Ted Turner, as well as artists of national acclaim, like Henry Botkin.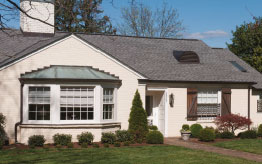 Following her undergraduate studies, she pursued a BS in interior design from UNC-Greensboro, and is ASID and CID certified—which means she has passed certifying exams and is professionally trained, educated and tested. Elaine's education and experience gave her the tools and confidence to shape the design of both her own home, and countless clients' homes over twenty-plus years of work. While her clients might dictate design direction for work projects, her own style is distinctly Southern with a heavy nod to the traditional, but with some whimsy and fun. "I love traditional, but I want to mix it up—I want it to be unexpected," Elaine says.

The Stephensons' home had been left largely untouched since its construction in the early 1950s, and while Elaine noted that the house had an easy floor plan, they immediately contemplated how they could add on to the home to suit their growing family, which eventually included a son and daughter, now both in their mid-twenties.
As homeowners of older homes often do, the Stephensons have made incremental changes over the years, like a kitchen renovation in 2001, a down-to-the-studs project that maintained the same footprint as the original. The kitchen, the hub of their home, has an airy cheerfulness from an oversized floral wallpaper on a creamy yellow background, and plenty of light. It has two full-length windows over the countertop, as well as a double sliding door to a screened-in porch which was added during a major renovation to the home in 2007. The porch, one of two off of the main level, was designed with relaxation in mind and has a fireplace, plush outdoor furniture and a built-in grill. "We use this a lot. We love to sit out here and when we entertain, people tend to end up out here," Elaine notes.

The kitchen connects to the breakfast area and family room—one big space which was also part of the renovation in 2007 by local contractor Matt Prescott, of Prescott Construction. The Stephenson family moved out of their Cornwallis home during the renovation, renting a house for seven months in the neighborhood. The end result, among other things, was an expanded footprint that included the spacious family room and breakfast area on the main level, which features a vaulted ceiling, stone fireplace and large windows. The breakfast area includes a rustic table, with seating for eight, that looks out over the rest of the space, which includes a built-in bar. The bar has a beverage fridge and ice maker disguised by custom paneling, while nestled between the beverage fridge and the wall is an antique sideboard that Elaine found while the renovation was ongoing. "I purchased it from a local antique dealer, and the area was actually built around it," Elaine says. "There isn't an inch to spare and it fits perfectly."

The breakfast table is situated in a prime spot. From here, one has a view of the television, the fireplace, and the backyard, visible though a large window which takes up most of the far wall of the family room. Elaine's desk, where she works when she isn't at her Franklin Road office, is butted against the window. In addition to the desk, the room is filled with a couch and three sink-in chairs fit for relaxed family life, which includes a yellow Lab. Between two English arm chairs covered in a narrow striped fabric is a family treasure—a cherry side table made by Bill's grandfather.

The breakfast table also affords a view of a gallery wall of original paintings and drawings, curated over a number of years and anchored by a large, colorful painting by Donald Purdy, a well-known American painter, depicting three women and a dog at a kitchen table. Elaine was gifted some of her art collection by an aunt, and she has added to it every year—at Christmas, each of her two children receives a piece of art, some of which hang in their old bedrooms and throughout the house.
To the right of the gallery wall is a recessed, built-in desk with shelves above—a home for Elaine's collection of well-worn cookbooks and antique copper Lusterware. Lusterware is pottery or porcelain with a metallic glaze, and during the 1820s to 1860s there were a number of English factories producing these pieces. "Lusterware is one of my favorite things, and I'll pick it up whenever I find it—it isn't expensive, but I think it's so pretty," Elaine says.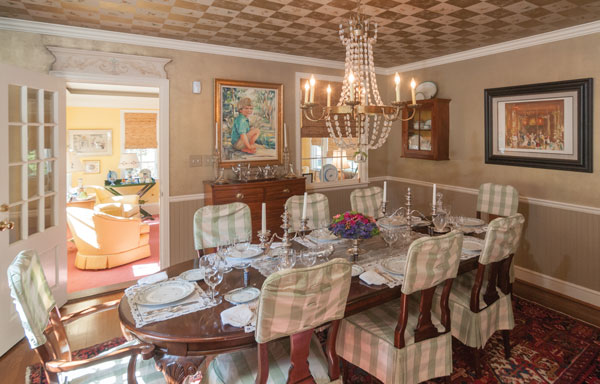 For a more formal affair, the Stephensons have a dining room with walls in a custom burnished gold paint (courtesy of local painter Nene Roe) along with a coordinating Brunschwig & Fils wallpaper in a butterfly pattern. The dining table, which seats ten, was passed down from Elaine's parents, and the Queen Anne chairs are draped in custom slipcovers. A bowfront chest occupies the far wall. "It was the first antique I ever collected, and I got it for my 21st birthday," Elaine remembers. It isn't the only nostalgic item in the room—the candlesticks on the dining table were an engagement present to the couple from Elaine's parents.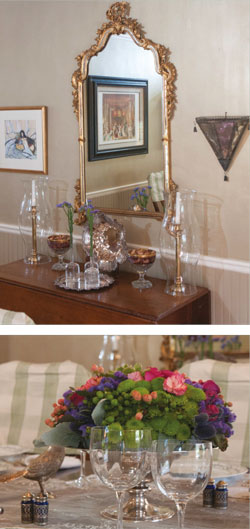 Connected to the dining room is a large living room, whose tall windows face the street. It was left untouched in the renovation, and its furniture is a mix of antique pieces collected over the years. It is painted a mid-tone green, and the large windows are covered in simple rice paper shades, which Elaine favors because they impart neutral texture that doesn't compete with the room's other elements—in this case, stand-out art. The living room houses original paintings of beach scenes by Henry Botkin, a mid-century American Modernist painter. Opposite the wall of windows is a fireplace framed by original built-in bookcases on either side, housing books, family photos and mementos.

When the Stephensons purchased their home, the entrance to the master bedroom was off of the main foyer. During the renovation, the entrance was relocated to a small hallway, and the footprint of the house was expanded to allow for a new galley-style master bathroom. The bedroom has a built-in raffia and wood wardrobe, custom made by local craftsman John Davis. It has the British West Indies look that Elaine envisioned, and he also created a matching double vanity in the master bathroom.
The other main floor bedroom belonged to the Stephensons' son, and still houses many of his childhood things, along with a custom-made trundle bed designed by Elaine and built by local upholsterer Roger Creasy.

During the renovation, the walkout basement was expanded and finished, creating a rec room that the kids claimed as a hangout. A half bath off of the main area has a cork floor in a diamond pattern, which Elaine chose for its look as well as its sustainability. Her grown daughter's room and a guest bedroom is also housed in a wing of the lower level, along with a full bath featuring a cheery aqua and green paisley wallpaper by Cole & Son.
In a separate area of the basement, Bill has a dedicated stomping ground—an office in dark tones and a billiards room with masculine wood paneling. "The pool table is from the Shenandoah Club—they were getting rid of it, and we thought it was so neat. It was made in the 1920s," Elaine remarks, running her hand appreciatively over its surface. The pool table, the largest antique in the house, fits in seamlessly in a home that honors the beauty of the past.

Elaine's design business continues to boom, and she is often busy designing tasteful interiors for clients throughout Virginia. But her own home provides a respite from that busy life, a cozy haven to host family and friends, and showcase her love of art and her signature Southern style.
Photography by Kevin Hurley