Art & Soul | Inside the Home of Designer Vera Silcox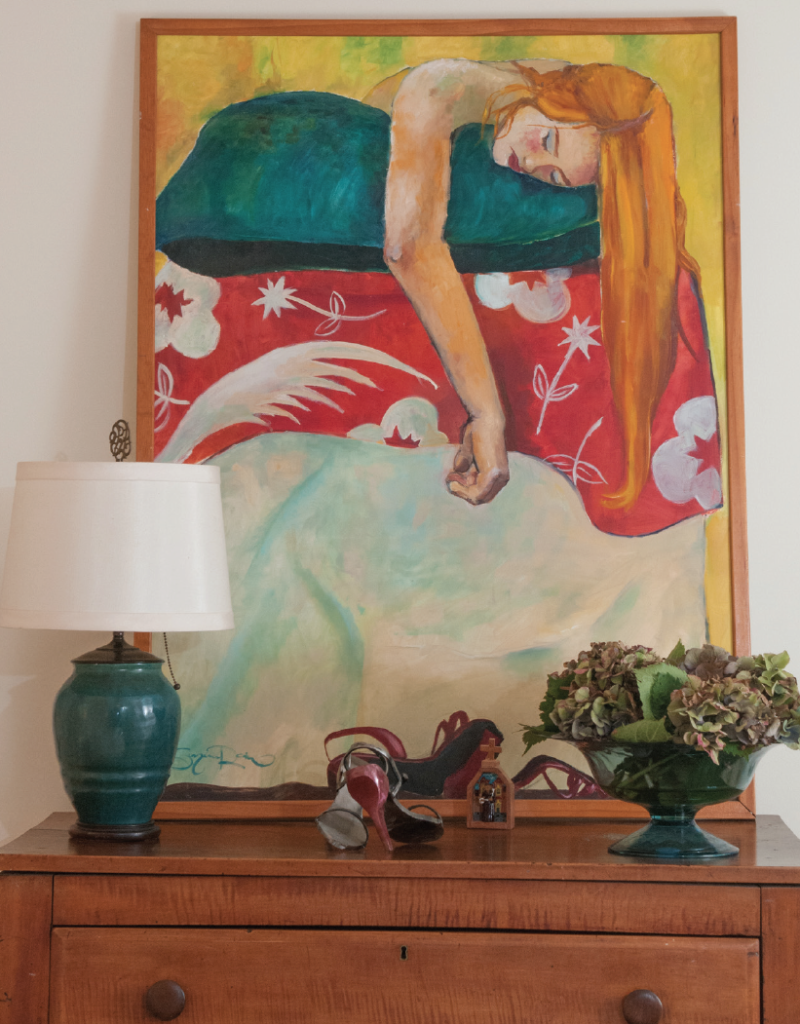 Interesting things have a way of finding Vera Silcox. Her home in South Roanoke,
a stately 1950s brick colonial beneath a canopy of trees, is filled with unexpected objects which have found their way into her capable hands. Vera, a painter and designer originally from Abingdon, moved to Roanoke in the early '90s, raised three children here, and found her current home about five years ago. "It was somewhat of a fixer-upper," she says. "But it had an easy-to-maintain yard, it had the potential to house all my stuff, and I thought it would be fun to work on."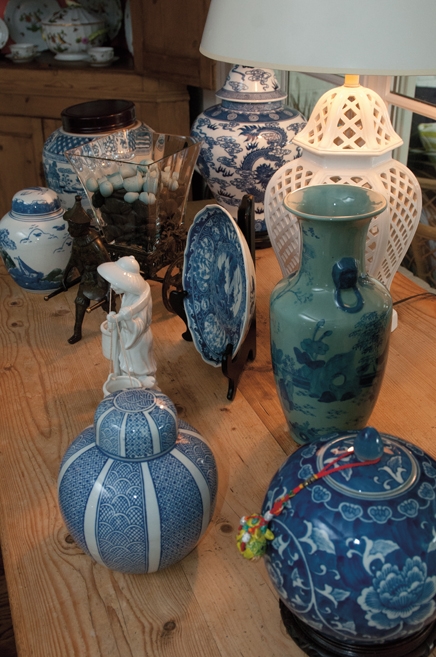 In the white wainscoted foyer, a torso sculpture by Mary Page Watts rests on a substantial wood block beside a central staircase. Colorful works by various artists, including Vera's own daughter, artist Mary Dove Silcox, fill the space, which is flanked by a pair of thick-walled passageways to adjacent rooms.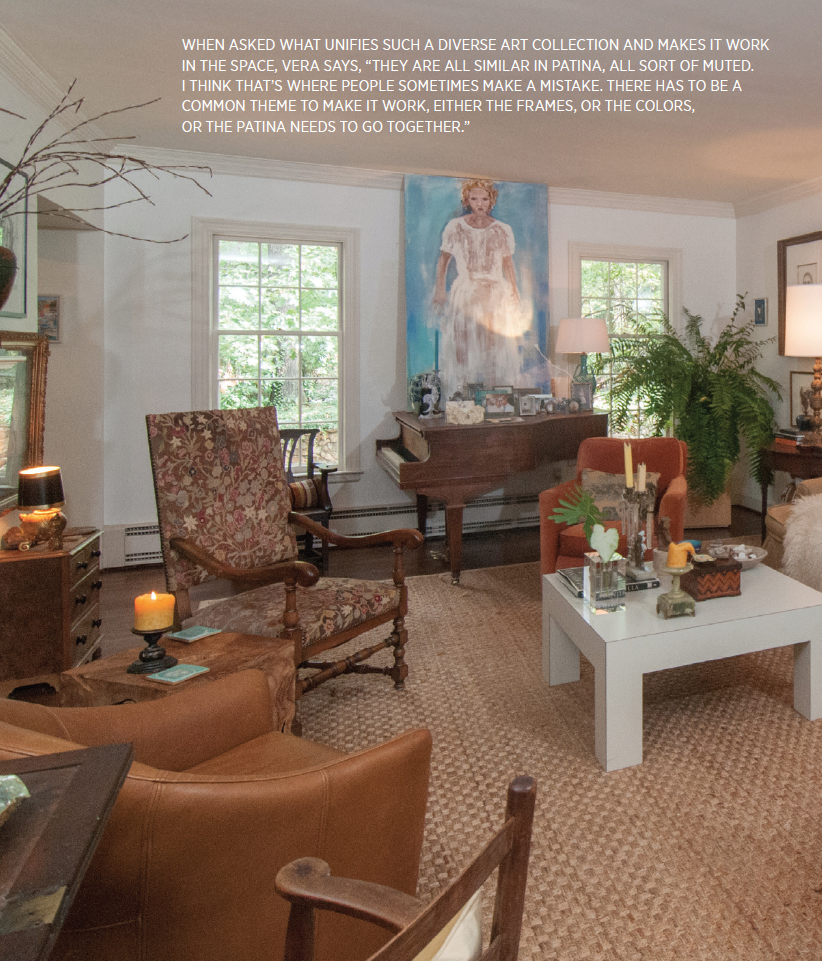 The living room furniture, in shades of terra cotta, gold and taupe, is colorful enough to give life to the space without detracting from the artwork that lines the walls. A number of Vera's furnishings are pieces which became hers through friends and clients, like the velvet chairs from a friend who bought them in Charleston, and the chunky white coffee table that was on its way to be donated to the Rescue Mission until Vera found it. "So many things that I end up with are just because someone else has gotten rid of them and I think, 'I can make it work,'" she says. She adds, "I like quality and I can't always afford the quality that I like, so it seems like things just come to me." The damask Carol Hicks Bolton sofa once belonged to a friend who wanted a more modern look. Vera knew it was a quality piece, but it wasn't white, her favored sofa color, so she placed a sheepskin rug on the front of it to brighten it up.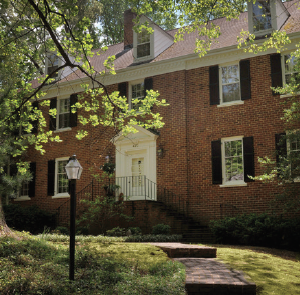 Vera credits her appreciation for quality to her mentor, Betty Moneyhun, who owned an antique store in Bristol, Tennessee. "Betty would bring me really nice things and let me touch them and hold them, so that I could be familiar with nice things when I came across them. I was very much influenced by her great design principles and aesthetics," Vera says. Though she took classes at Parsons School of Design in New York City, Vera is primarily self-taught, and began her career painting furniture. When she moved to Roanoke, Present Thyme Home started selling her work, and soon she was taking appointments to help the store's clients decorate their homes. Vera says that work has kept her too busy to paint furniture or finish her degree, and these days, in addition to interior decorating, she also helps her clients plan home additions and renovations. Her daughter-in-law, Mary Silcox (not to be confused with daughter Mary Dove Silcox, the artist), is also an interior designer, and draws things to scale for Vera's projects when needed.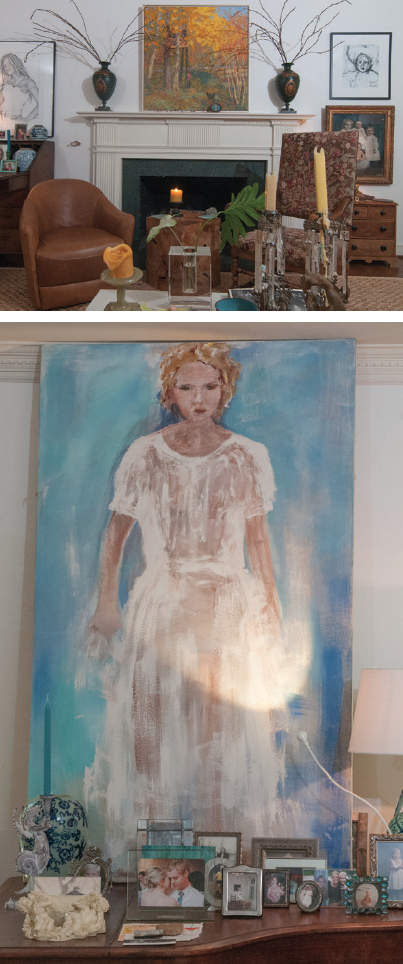 Vera has worked with Present Thyme since 1991, and she travels to High Point Market's design show twice a year to source goods for the shop, which she often uses in both her clients' homes and her own. In the living room, she has a Present Thyme embroidered chair and a large 17 by 20-foot jute rug that is a favorite of hers, and can be ordered to size. "I use this a lot for clients," she says, explaining, "It's such a good staple because it's very forgiving and super soft. People are surprised because they think all natural fiber rugs are hard, but this one is extremely cozy."
Art takes center stage in Vera's home, and the living room features an array of different styles. Many are portraits, including one of her daughter, Katie, that was done by a street artist in Europe; a portrait of her son, Wyatt, by Vera Dickerson; and a drawing of daughter Mary Dove, made entirely from tiny x's, created by an architect in Blacksburg from a photo. A large canvas atop the piano reaches to the ceiling and was done by Vera herself. "We call her 'The Big Woman'," Vera says, and explains that the figure in the white dress is actually a composite portrait. She says her then-13-year-old daughter drew an outline around Vera, and then for the features, "I looked at my daughter, I looked at my son's nose… I looked at whoever held still until we ended up with that."
Above the mantel is a plein air autumn scene by Vera's "latest favorite artist" from Richmond, Andras Bality. When asked what unifies such a diverse collection and makes it work in the space, Vera says, "They are all similar in patina, all sort of muted. I think that's where people sometimes make a mistake. There has to be a common theme to make it work, either the frames, or the colors, or the patina needs to go together."
French doors and a wall of windows separate the living room from the sunny breakfast room. It has white brick walls, a painted concrete floor softened by a sisal rug (flipped upside down because Vera preferred the reversed color and pattern) and a round table surrounded by an assortment of chairs. One pair was ordered through Present Thyme for a client who was building a new house, but Vera says, "When I got them in the house I didn't think they worked, so I promised Liz [Barudin, the owner of Present Thyme] I would buy them if she'd let me order different chairs. They were my own fault, but they work here!"
A cozy study sits to the left of the breakfast nook, with deep gray walls, a black fireplace, and tomato-colored drapes Vera got from a friend. Vera loves the curtains, noting, "They're done old school, lined with flannel. They've been in every house I've had." Though the room is rich with color, the sofa and a slipcovered chair are white, a theme that is repeated in other areas of Vera's home. "I love shades of white," she says, "because when different pillows come into fashion and art switches around, it always works." A cowhide rug and large polo painting by Greg Osterhaus add warmth, as does a built-in coffee and wine bar featuring Vera's beloved Saeco coffee maker. "It's my favorite thing — I'm constantly talking about it," she admits with a laugh, and jokes, "My kids call it 'The Fourth Child' because I like it so much!"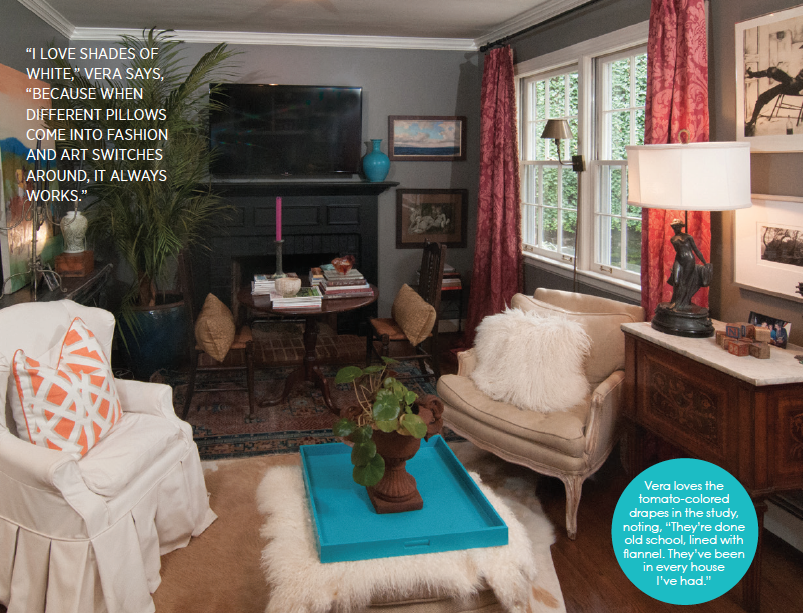 On the other side of the breakfast room is the kitchen, which features open cabinets filled with colorful plates and glasses. As part of a kitchen renovation, Vera had local contractor Ray Runion refurbish some of the existing cabinets, including making new doors, which she then promptly removed. "I usually do better at keeping things straight if you can see it," she explains. The renovation also involved removing a wall to incorporate what was once a long hallway, a task completed by Vera's son, Wyatt Silcox, who, along with partner Mike Kraemer, owns Stone River Contracting. A concrete countertop, Carrara marble backsplash, and quartz-topped island surrounded by a variety of chairs add custom detail to the kitchen, as does the blue ceiling, which Vera says she often uses in her clients' homes. "I met [NY designer and author] Alexandra Stoddard, and she was a big promoter of blue ceilings—I thought she was so cool," Vera says. When asked the color, Vera says it's custom but that, "If you go to Sherwin Williams and ask for 'Vera Blue' they'll give you this, because I've used it a lot!"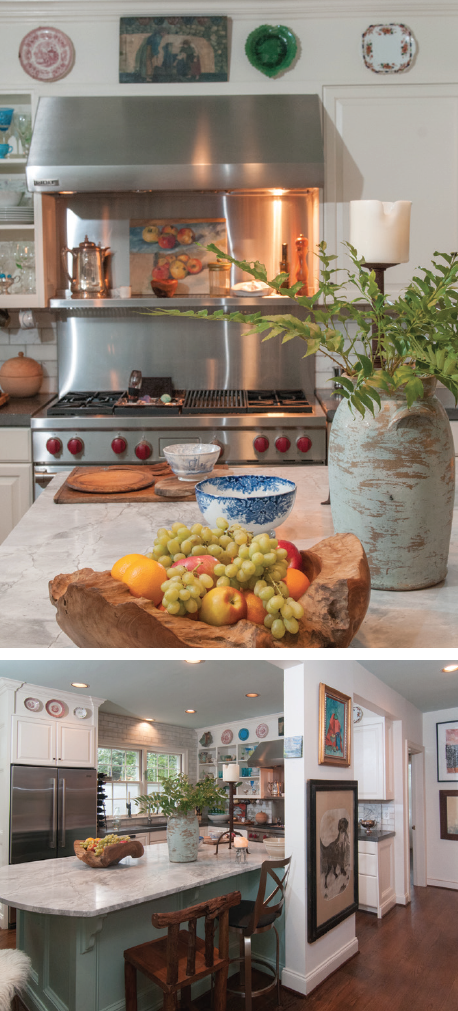 Since the renovation, the kitchen is now open to an L-shaped hallway filled high and low with art and featuring, unexpectedly, a delightful working elevator. The elevator, which Vera uses mostly for groceries, has lush red paint, leopard-print carpet, a chandelier, and, of course, a colorful piece of art—in this case, a blue mosaic. Beyond this fun feature, the hallway continues to a dreamy guest room. The bed frame looks like bamboo but is actually iron, and the all-white bedding features billowy goosedown and a puddled dust ruffle. Gauzy white drapes by Accents on Windows soften the sunlight. The en suite bathroom, once lime green, was renovated by Stone River Contracting and now boasts updated cabinetry, a Carrara countertop, and marble floors and shower.
Having a handy and talented son has its perks, and also its funny moments. A nearby powder room, also updated by Wyatt's business, has an unusual organic mirror hung above a white vessel sink. Vera says Wyatt made the mirror from pieces of driftwood as a surprise Christmas gift for a cabin she lived in some years back. He had collected the wood from Claytor Lake and the frame was already assembled, but when the family was gathered together at the cabin on Christmas morning, he still needed to hammer all of the driftwood pieces onto the frame before Vera could see her surprise. Vera recalls hearing lots of banging out where Wyatt was working, and wondering what on earth was going on. "My daughters kept saying, 'You're gonna love it! You're gonna love it!'" she says.
The hallway leads to the dining room at the front of the house, just off the foyer. "Almost everything in here has been a giveaway or passed on to me," Vera says. Terra cotta brocade drapes were given to her by a friend, as were the white dining chairs. The table, however, is a piece from the 1780s that Vera purchased, and she chuckles, "It can drop down to a really small table, so I'll probably take it to the nursing home." The large chandelier was a gift from a client, and above a sideboard, which is set with a silver tea service, is a cherished painting from her mentor, Moneyhun. A vibrant modern painting atop a gilded curio cabinet was purchased from a Russian artist Vera found at High Point Market, which reminded her of daughter Mary Dove's work.
At the top of the foyer staircase, Vera's bedroom is spacious and serene, with windows looking out into the foliage of the many trees. Her bed faces a fireplace and features a custom frame by Brian Lawrence of Artistic Metals. White bedding, a pale Oushak rug, and lots of Belgian linen white curtains give the large space an ethereal feeling. More sheepskin touches appear here, because, Vera says, "I'm sort of obsessed with it right now—it's really nurturing." An adjacent sunroom with white chairs and ottoman, soft crewel floor pillows, and built-in bookshelves, looks out over the patio. "I come up here to work on projects," she says. "It's very quiet, like a treehouse."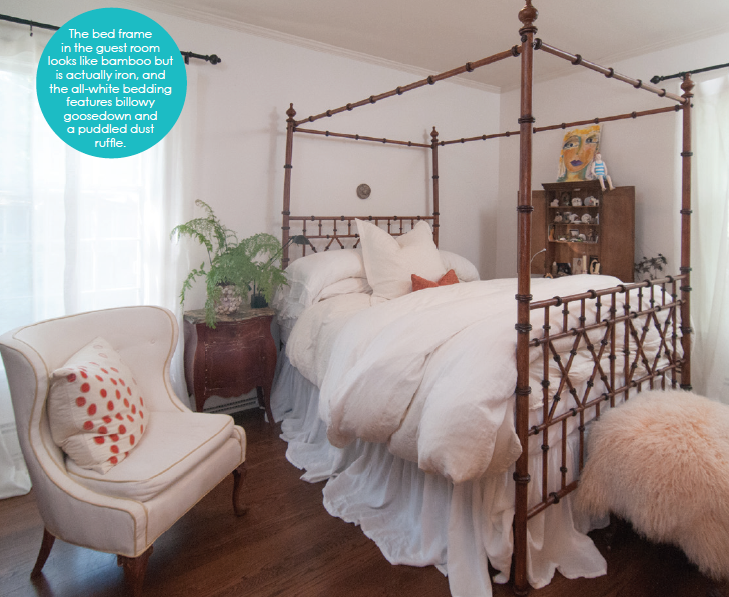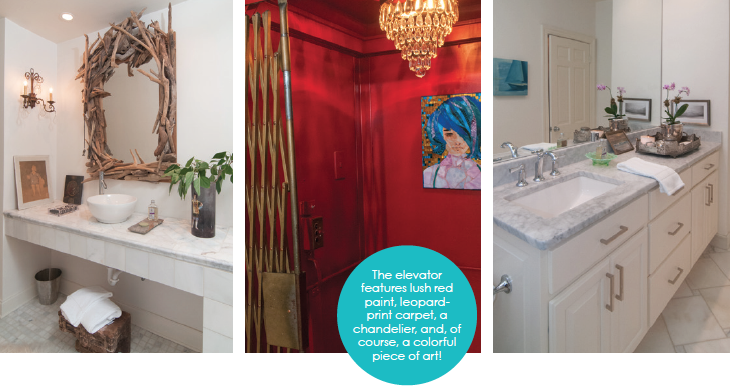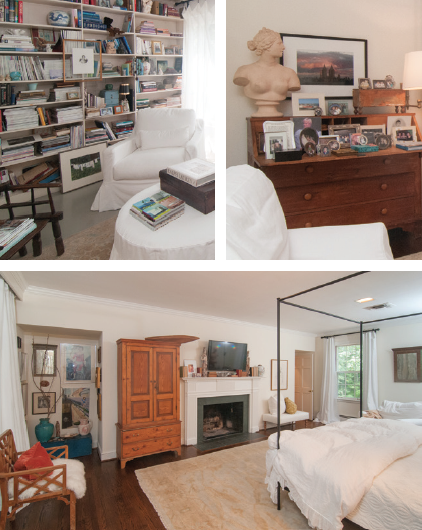 The patio below is accessed from the breakfast room and feels like a private retreat. Brick and stone are covered with moss, and ivy cascades over the retaining wall. Groupings of aged teak furniture and stone sculptures are softened with ferns and surrounded by greenery. Vera says it's an excellent place to have a glass of wine with neighbors, or just to "ponder."
The doorbell rings, and it's Jed Hammer, a client whom Vera helped with a kitchen and master bath renovation. He and his wife, Kay, brought Vera a gift, a painting they saw at LinDor Arts when shopping with Vera for their home. The painting, by Dee Campbell, is an oil on panel, and has the rich, deep patina of an "old masters" painting. The Hammers knew Vera liked this particular painting and delivered it as a surprise thank you for her work. A stunned Vera cannot believe it, exclaiming, "I'm just absolutely speechless. It's the sweetest thing I've ever seen anybody do."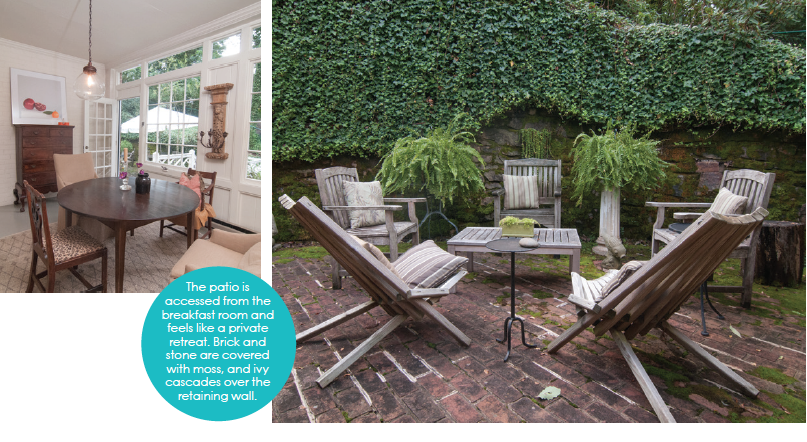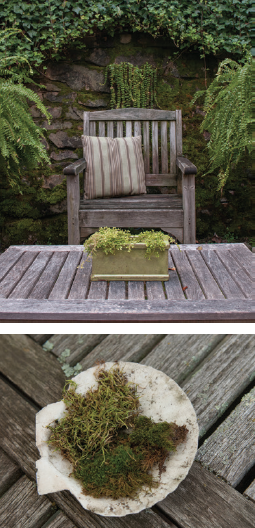 It's obvious that Vera builds a special rapport with her clients, and her design instinct is apparent as she carries the painting from room to room looking for the perfect spot. At first, she takes it to the dining room, because the subject is an orange and so it seems appropriate, plus she has some similar tones in that room. She hangs it on a bare spot on the wall and tries it out for a few minutes, but ultimately decides the scale is not quite right. She considers the foyer next, then moves on to the living room. Finally, she hangs it in the thick-walled passageway between the two spaces. She likes how the light falls on it there, and thinks it has better visibility. Chances are the painting will move to a new location as seasonal light, furnishings or mood change, but for now, it has found its place in Vera's collection, and she couldn't be more tickled. "I'll go without clothes for art," she says, "I really will." 
Photography by Kevin Hurley
Accents on Windows, andras bality, Artistic Metals, hight point market, LinDor Arts, mary dove silcox, mary page watts, Present Thyme, ray runion, Showcase Home, stone river contracting, terra cotta