Around Town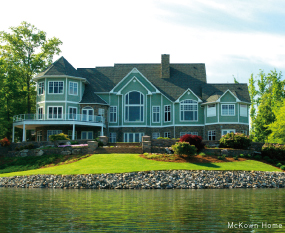 Smith Mountain Lake Charity Home Tour
The Smith Mountain Lake Charity Home Tour is a fundraising event held on the shores of Smith Mountain Lake near Roanoke, Virginia. During its 22-year history, it has raised in excess of $3.5 million for local charities. Some 1200 volunteers assist with the planning, administration and hosting of the tour each year.
Eight beautiful lakefront homes are open for touring on Columbus Day weekend, rain or shine. Tour homes are accessible by road and water. A significant number of residents and visitors travel from home to home by private or rented boat. Unfortunately, the homes are not handicap accessible.
The event, which can accommodate over 3,000 ticket holders, began in 1991 as the "MS Home Tour," with the Blue Ridge Chapter of the National Multiple Sclerosis Society in Charlottesville, VA, as the sole benefactor. After six years, the Tour was incorporated as the "SML Charity Home Tour" to involve charities serving a broader spectrum of human needs. The National Multiple Sclerosis Society named the Tour the Most Innovative Volunteer-Driven Fundraiser in the nation in 1993, and in 1992 the National Multiple Sclerosis Society honored it as the largest per capita fundraiser in the nation. About thirty different 501c3 charities in our region have received funds from the event, and 198 homeowners have graciously opened their homes to visitors during the Charity Home Tour's history.
Tour dates:
October 11, 12, 13
Tickets are $20 in advance, $25 on Tour days; available at www.smlcharityhometour.com and in-person at the homes. No children under 12 years of age, no babies in arms or carriers. No cameras please.
For more information, call 540-721-7222 or visit www.visitsmithmountainlake.com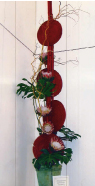 The Roanoke Valley Garden Club presents A Morning with Tony Todesco
Join the Roanoke Valley Garden Club and its members for A Morning with Tony Todesco on October 23 at 10:00am.
Todesco is known for his colorful style and creative use of ordinary materials. For over 35 years, Todesco has designed flowers in the Boston area; he is a renowned designer at trade shows and has promoted the use and enjoyment of flowers on several television shows. Todesco lectures across the country for Garden Clubs, Design Groups and Museums such as The Museum of Fine Arts in Boston and The Minneapolis Institute of Art.
Todesco's large-scale designs are a regular exhibit at the Museum of Fine Arts in Boston. Among his many accomplishments are set design and staging for numerous flowers shows, including The Massachusetts Horticultural Societies Annual, New England Flower Show. He is proud to be a National Garden Clubs, Master Flower Show Judge, and served on The National Garden Club Flower Show Committee as New Design Development chair (2001-2009). Todesco developed and introduced five new design types, which are included in the NGC, Handbook for Flower Shows. Todesco is now Design Consultant for NGC, Flower Show Schools Committee.
Call Cyndi Fletcher at 540-589-3084 to purchase tickets.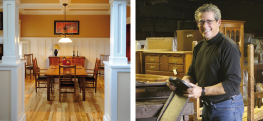 The Stickley Roadshow
The History of Stickley Furniture and the Arts and Crafts Movement
November 9 and 10
Event is free, but seating is limited.
On November 9-10, Reid's Fine Furnishings and Benchmark Builders will host The Stickley Roadshow featuring Mike Danial, Stickley's corporate historian and restoration specialist. Mike will share his experience, methods of identification and insider secrets about Stickley furniture.
For additional details and to confirm your attendance, visit: www.ReidsFurnishings.com or call 540-342-1844.
Reid's Fine Furnishings has served Roanoke for nearly two decades. Benchmark Builders have been building custom homes in the Roanoke Valley since 1985.