A Wish and a Wash: When it's time for a bathroom makeover, choose function first, then sprinkle the flair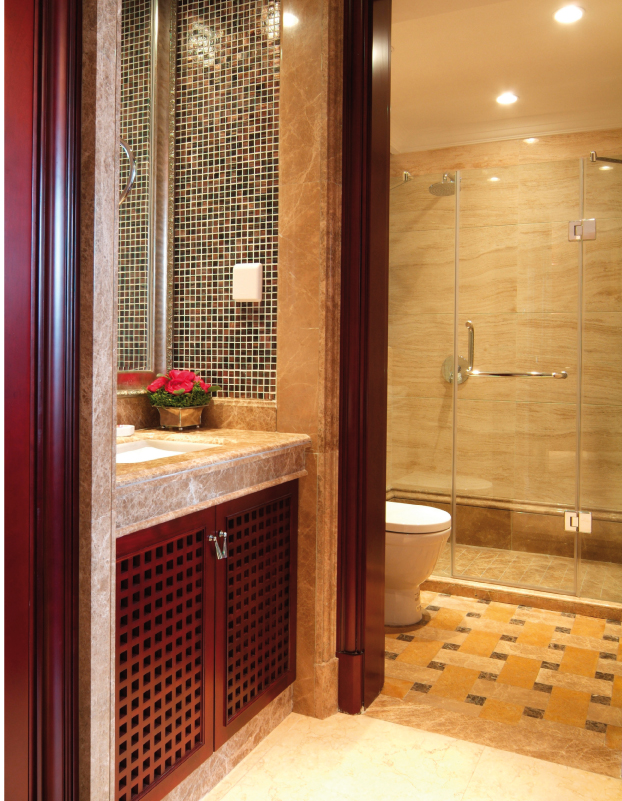 Whether getting ready for the day or getting refreshed at day's end, we spend countless hours enjoying the pleasure of indoor plumbing in our bathrooms – a pleasure people in the early 19th century could only find in the most luxurious hotels. While most of us think of our bathrooms as necessities rather than luxuries, that luxury hasn't been lost altogether. Options abound that can turn an average bathroom into an oasis of comfort and leave you feeling like a resort's special guest. If you're planning a complete bathroom remodel or just switching out a few fixtures for a new look, Roanoke Valley contractors, plumbers and electricians are keeping up with the trends and are working hard to deliver the most durable and stylish products.

First Things First
James Wisler, vice president of Wisler Plumbing in Rocky Mount, has been working with the family business for almost 30 years. He said he's learned what's most important to homeowners in bathroom design: functionality.
He says most people who dive into a bathroom remodel do so because it is outdated and they want to modernize it or they need easier accessibility.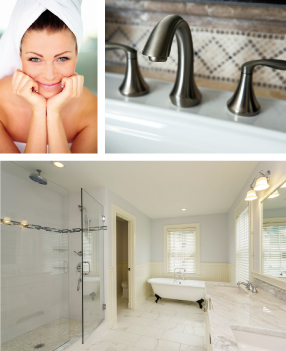 "As people get older, their lifestyles change, and so the functionality in your bathroom needs to change, too."
Wisler Plumbing is one of many area companies now offering "turn-key" bathroom remodeling, from the old bathroom's demolition to ceiling-to-floor renovation, in record time. Those workers who used to specialize in just one area are now versed in all facets of a remodeling job, from plumbing to electrical to design. Companies have discovered that a one-stop-shop is attractive to the homeowner, making it all the more important, Wisler said, to choose the right person for the job.
"Remodels are known for the unknowns," Wisler said. "Choose a competent craftsman, because the job may turn out to be much larger once the plumbing is examined and floors are taken out. You need someone who can handle all the surprises."
Also, make sure you get a detailed cost proposal and a project schedule in advance (these should be customary when working with a reliable contractor). Nothing can be more frustrating than living without a bathroom or sharing one with several family members at once while a remodeling job lingers, so make sure you know in advance what you're getting into.
Hiring someone you trust is essential, since the bathroom and its fixtures are the second most expensive in the home, after the kitchen. You have to be able to trust your contractor enough for them to tell you what can and can't be done on your bathroom renovation wish list.
Contractors know that just because someone sees their dream bathroom on a home makeover television show, it doesn't mean their dream can come true in that exact way. They focus first on functionality, and then the aesthetics come into play. Working with the available space, taking into consideration the existing plumbing, wiring and flooring, and using some tricks of the trade mixed with a little creativity, they can achieve a whole new look that will be a perfect fit for your family.
Do your homework, visit a showroom and explore your options firsthand.
Mike Springsteadah of Superior Bath Systems said people make the biggest mistake when they go with the first thing they see.
"They don't fully see what their options are and don't give them due diligence," he said.
Like other major bathroom remodelers in the area, Springsteadah will accompany the homeowner to select materials, showing them all the options firsthand.
"I do everything in my power to make this as much of a joyful experience for the homeowner as possible," he said.
Be leery of contractors who want to install their own products they happen to have on hand; licensed and insured contractors, plumbers and electricians should be willing to work with you to find your own style of products. While home improvement and hardware stores carry several options, you will find much more in the way of fixtures at a plumbing specialty store.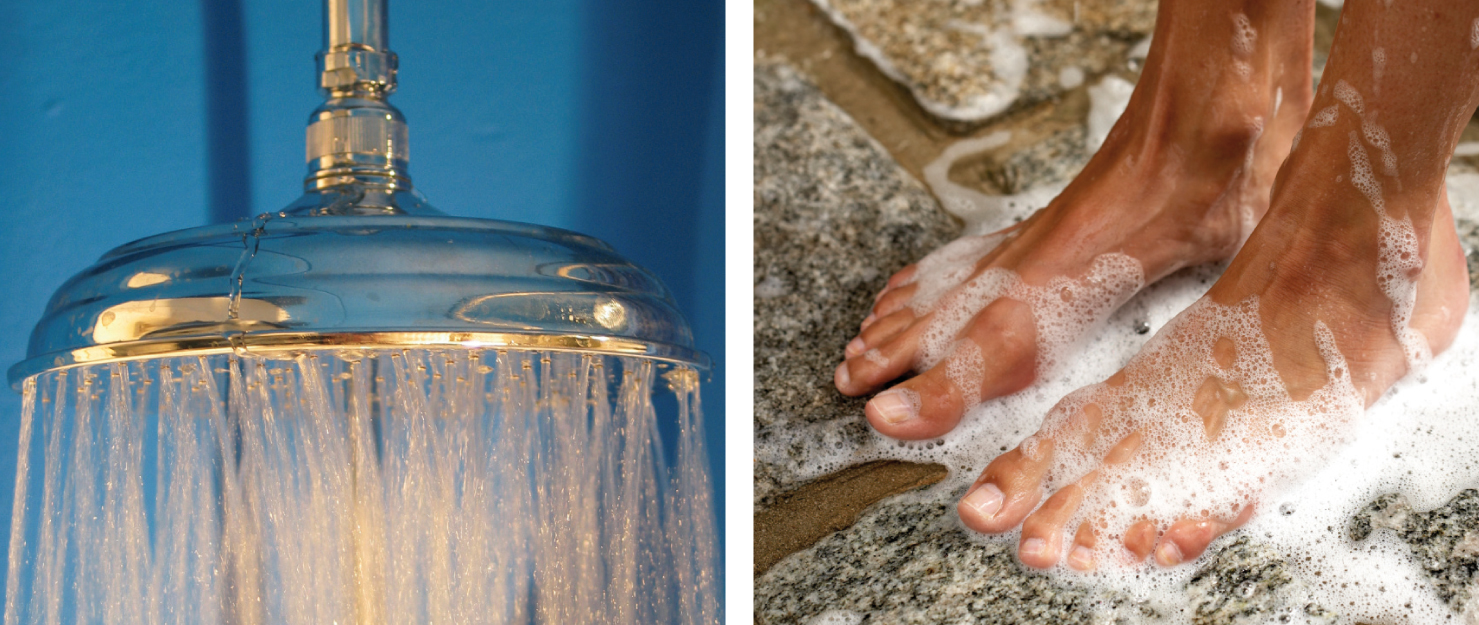 Rub-a-Dub, You Might Want to Give Up the Tub
Perhaps the biggest decision you will make is where and how you will bathe in your new bathroom. Bathroom remodelers are seeing more people give up the bathtub in exchange for more shower space. And that makes perfect sense because most of us are living lifestyles that are too busy for lengthy, candlelit bubble baths. A quick shower, and we're off.
"Ten years ago everybody put in huge whirlpool tubs, but we're not seeing that as much anymore. We're seeing homeowners choose showers," Wisler said.
You might work yourself up into a lather when you visit a showroom and see the huge variety of nozzles and faucets. Body sprays (jet massages spraying from the sides of the shower) are popular, as well as an assortment of multi-setting showerheads, including the much-in-demand rain spray option along with hand showers on slide bars. Double-head shower faucets are becoming more popular, too. Again, it is best to consult a plumber to see if this is an option for you. Showers with built-in seating are not just for those with mobility issues anymore; you will see more styles that come with seats to make showering and shaving easier.
"Five years ago people were doing monstrous showers with all the outlets, but then water conservation came into play and people scaled back and are now choosing to go more practical, with just a rain spray or body spray," Wisler said. Before choosing these particular faucets, have a plumber check your water pressure and water drainage capabilities to make sure existing plumbing can keep up with the increased flow of these fixtures.
A luxury therapy item, steam showers are gaining in popularity. A generator (often hidden under a vanity or behind a wall) can be activated with a push of a digital control button. Sitting on a bench in your shower, you can sweat away the stress of the day under scented vapors. Many tout the benefits of a steam bath for your skin and sinuses. Once installed, a steam shower doesn't incur much additional cost: a 20-minute steam bath only uses about 2 gallons of water (versus 50 gallons for a 20-minute shower). Followed by a quick rinse, you are certain to feel rejuvenated. Should you need it, you can also have a therapeutic tub installed, the same type used by physical therapists. Many people justify the expense of one by weighing the cost of going regularly to therapy versus the in-home convenience of having your own.
Cast-iron tubs were trendy in the last few decades, but more people are trading them in for shower stalls for practical reasons—not everyone can climb over the side safely. Tubs are not out altogether, though. Many people still enjoy their soak in a garden tub. These high-end items are installed mostly in new construction (because space has already been allotted for them). Likewise, whirlpools and Jacuzzis may not be the best choice for the budget-minded, since they can run up a water bill very quickly just to fill them.
"Showers are definitely the way most Americans bathe," said Ken Potter, local owner of 3 Day Kitchen and Bath. He said his company, which prides itself in remodeling a bathroom in three days or less, often replaces old-fashioned platform tubs with newer freestanding tubs. "There are beautiful designs with many different faucet and size options," he said.
If space allows, keeping one tub in the home is important for resale, he added.
If you still need a tub for children, acrylic may be the best way to go. Many companies specializing in tub overlays use acrylic because it is virtually maintenance-free. The non-porous material will never fade, crack or get dull. An overlay is comparable in price, or less, than a complete tub refinishing job (less mess, too). People with acrylic tubs have said they never have to scrub; a little Windex and a paper towel is all it takes to keep it clean.
"Acrylic will shine until your kids grow old," Springsteadah said. On the other hand, fiberglass, a popular alternative, has tiny pores: "Every time you scrub it, you're doing some damage to it."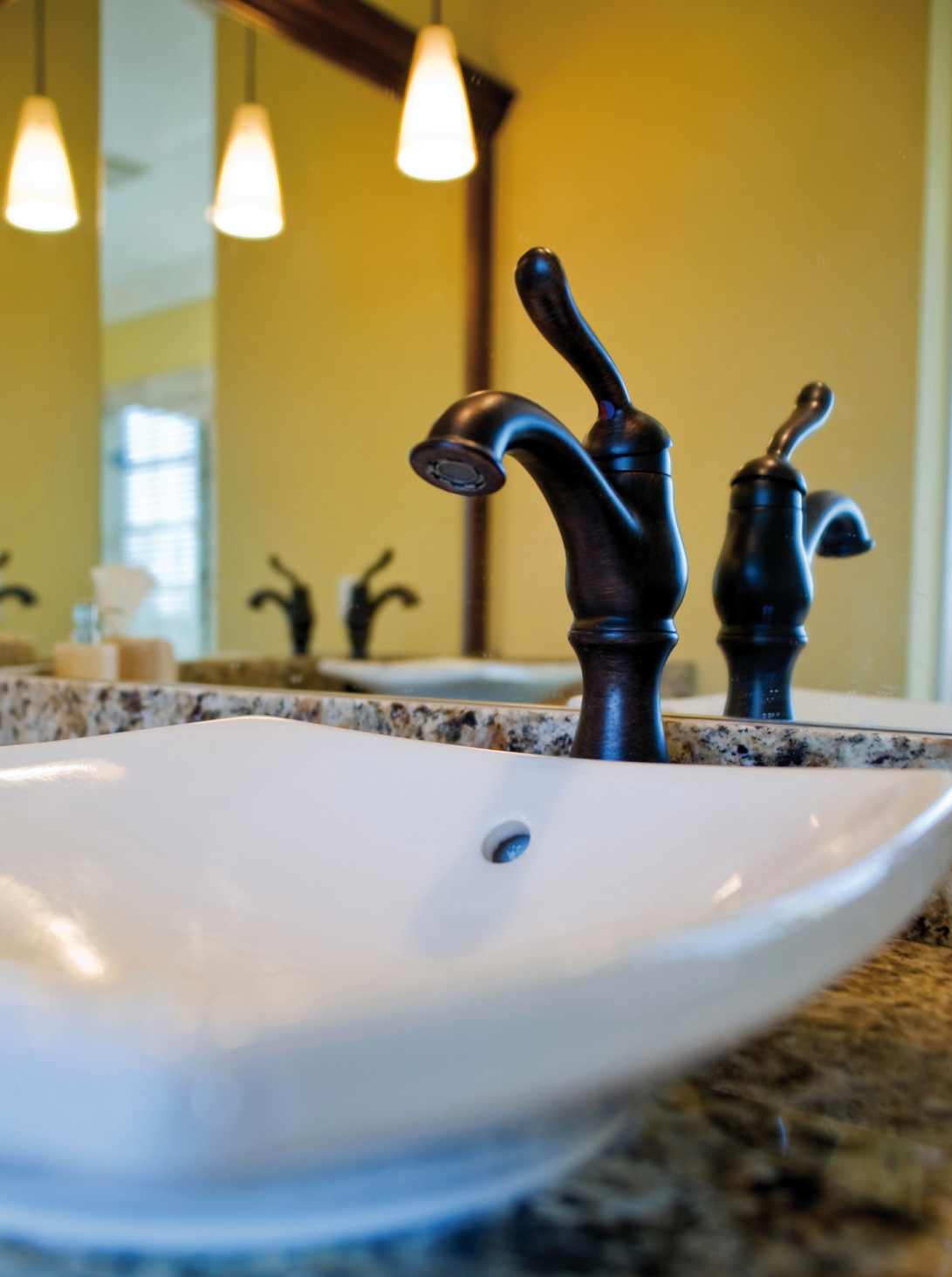 Warm Up to New Features
Some of the newest fixtures in bathrooms can greatly add to your comfort level. Heated floors are perhaps the latest-and-greatest addition to the market. A separate thermostat operates an electric mat installed under tile.
"Heated floors and heated towel bars are wonderful when the budget allows," Potter said.
And remember those outdated red-coil heat fixtures overhead? They are still available, but modernized versions now come with the addition of ventilation fans and can also include lights for a three-in-one deal.
And yes, there are other items that appeal to the secret wish for royalty in all of us: a heated toilet seat on a cold night is most welcoming. Some even come with nightlights!

Crunch Time
When a total bathroom remodel is not feasible, you can add a few simple items to greatly enhance your space.
Sometimes it can be as simple as adding a new "comfort height" toilet, a new vanity countertop or replacing faucets that have lost their shine. "Plumbing fixtures can really sway your cost. Keep fixtures in their existing location and avoid glass shower enclosures to control your budget," Potter advises.
Potter offered other ways to update your bathroom such as installing recessed lighting overhead and adding a dimmer switch to lighting above or beside mirrors to allow for a range of light from very soft (early in the morning) to very bright (for tasks like cleaning and applying makeup).
A fresh coat of paint, a new shower curtain, new towels and accessories can give you a new feel on the tightest of budgets. Some paints even claim to resist mold and mildew growth in moist spaces like bathrooms for up to 5 years.

It's Personal
If you can "have it your way" with a burger and order your coffee with a list of special instructions, you certainly can do the same with your bathroom. Where you tidy up is the most private room of your home and it ought to include those special, personal touches. Why not display pictures of family members? I have a favorite photo of my kids playing in a bubble bath that still makes me laugh when I see it. Add your favorite fragrances, use your favorite colors, steal some fresh flowers from the dining room. Replace those ever-thinning towels that were wedding gifts long ago with a livelier pattern and brighter colors, perhaps paired with new hand towels.
Why can't bathrooms have a conversation piece, too? If you are a sucker for local pottery like I am, some pottery shops sell homemade sink basins that can add a personal touch. Changing out cabinet knobs, towel racks and outlet covers to a fancy, fun style can automatically add some flair.
Committing to a new look in your bathroom may take some time, but you can't plan too much for a room that you use so much every single day; you will be glad you took the time to get it right. And maybe you'll be lucky enough to find the time to lather in your own lap of luxury.

Tight space?
A common mistake of homeowners is trying to jam too much into the bathroom, often the smallest rooms, in the house. Here are some tips for making the most of the space you have:
• Borrow some tricks from interior designers to create the illusion of an "enlarged" room: Choose a light paint color for the walls or paint the ceiling a bright white and add crown molding. Choose a light-colored floor with larger tile squares to make the room feel bigger. The right lighting can make a difference, too: switch to CFL bulbs for a brighter, more natural light; remove curtains from windows (if your privacy isn't compromised, that is), or if you can spring it, add a skylight. Large wall mirrors over sinks and three-way mirrors also visually enlarge a small space.
• Be willing to forgo a closet to make way for a larger tub or shower. There are more storage options for bathrooms—custom vanities, cabinets, and shelving—than ever before. Often, a large vanity can be given up for a pedestal sink instead, freeing up several feet.
• Ventilation in a bathroom is important to preserve walls, cabinetry and just about anything else that can be damaged by moisture. NuTone makes a remote fan which is located in the attic. Panasonic makes vent fans that are extremely quiet; complete with a built-in motion sensor and humidity sensor, it only runs when it is needed.