A Season Of Gifts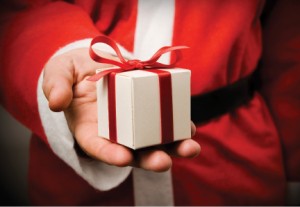 I don't know about you, but I'm always on the prowl for some tidbit of information that will make life better, easier, more efficient or fun—whether it's a crowd-pleasing recipe, a chore-changing dish soap, or, particularly at this time of year, a great gift idea. So this holiday season, I thought I'd seek tips from none other than the wonderful contributors here at HOME. After all, they're idea people! So this holiday season, we're giving you the gift of even more really great ideas—ideas that might save you time, make you and yours smile, and allow you to create memories with your loved ones all year long.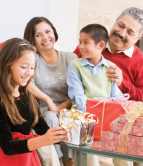 Family Time, Family Gifts
Writer Jennifer Prince loves to give the "family bonding gift," which usually has something to do with time in the kitchen. Ideas include cookbooks bundled with non-perishable ingredients for one of the recipes, along with kitchen gadgets (think batter bowl, spoon, dishtowel, pretty containers for storing cookies). This type of gift is always a hit, she says, because families get to make a sweet treat while spending time together.
Writer Mitzi Bible agrees. She suggests an ice cream set, (sundae dishes, long spoons, toppings galore, cute napkins), or a camping or tailgate/sporting event kit (a cooler filled with camping gear or items you need at the tailgate or kids' soccer game, like a waterproof throw, drink koozies and more). "The fun is choosing the container and then filling it," she says. Production assistant Trisha Roth likes to give the gift of a family movie night—a cool popcorn bowl, microwave popcorn, theater candy, and a gift card to the local movie rental store.
Another family gift idea comes from writer Jen Brestel. Her family received from a dear friend "the most wonderful gift that we have all enjoyed: a red plate and a red notebook." The plate is placed at the dinner table in front a family member who has accomplished a great thing: a milestone (birthday, anniversary, promotion), or an accomplishment (finishing a book, being a good citizen/helper in the family, showing unexpected kindness)—"basically, anything that allows you to show the person that they are special," she says. The red plate comes out unexpectedly, and the recipient is always very proud. The notebook documents who got the plate and why, creating a history of a family's joys and accomplishments.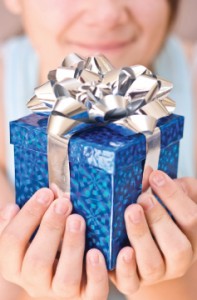 Photographer Jeremiah Guelzo gives the gift of his talent to his family. "I'm blessed to have many family members in the area, so during the holidays when we gather we always take the time to do a fun family photo with everyone together," he says. Photographer Keith Theinemann also suggests the gift of photography. A photo of a beautiful scene or object by a local photographer holds special meaning and is something the whole family can enjoy.
Gifts for Your Own Family
Writer Kim Fox has plans to create a most memorable family gift. Her father was in World War II, and recently visited the World War II Memorial on the Central Illinois Honor Flight with other veterans. "It was such a moving experience for him that I intend to record his memories of the war and make DVDs or books for all of his grandchildren for Christmas." She'll include pictures and stories she's heard her dad and his friends talk about for years, creating a gift her children will cherish forever.
When shopping for her own family, art director Edwana Coleman assembles Christmas "stockings," which are actually gift bags containing several individually wrapped gifts. "For my mom, I usually 'upgrade' practical things with something a little more luxurious than what she might buy for herself, such as Votivo candles, gourmet loose tea, or fragrant liquid hand soap for the kitchen like those by Thymes or J.R. Watkins." For her dad, local goodies like honey or apple butter, and seed bells and suet cakes for his bird-feeding hobby, fill his stocking. Other stocking filler suggestions include gift magazine subscriptions, a favorite DVD or a book of stamps.
Fitting the categories of fun, useful and meaningful, drawstring bags made by proofreader Eileen Lass are a favorite gift she gives to her family. Throughout the year she shops remnant tables at fabric stores and uses coordinating cording to craft these totes for each child in the family (her children and nieces and nephews). "It's fun to see them bringing them to family reunions and holiday get-togethers," she says.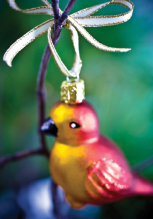 Girly Gifts
Girlfriends, take note of this gem from writer Jennifer Prince: Last year, she received a friend's own version of "Oprah's Favorite Things," a gift box filled with her favorite things, explaining why each was her favorite. "The box was filled with the delectable (Lindt chocolate), fun (Burt's Bees colored lip gloss), and practical (a pen she had found that wrote well)," says Jennifer.
Account Manager Lyn Marie Figel says that she and her friends decided they were spending too much money on gifts for each other—gifts they didn't particularly want or need. So they "made a pact" to spend that money on a holiday trip together every year. During the trip, they plan a girls' night out for New Year's Eve and "pull out all the stops," she says.
Year-Round Gifts for All
Account Manager Janet Lampman has crafted several terrariums for gifts, and "everybody seems to want one when they see them." While she usually makes them for birthday gifts, she says they can be made for any occasion. She says to buy the succulents and other supplies at a garden center or hardware store, and the vases at places like Michael's. She suggests grouping them in threes and using different-sized vases for each.
Publisher Colleen Dougherty has hit on a gift that she loves giving all year long: fun and funky umbrellas. These are the ultimate splurge we'd all love to have but probably wouldn't buy for ourselves. Such a gift would add sunshine to anyone's rainy day.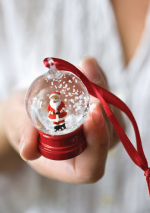 Give A Signature Gift
Finding your "signature gift"—particularly for neighbors, teachers and others in your everyday life—is another great idea that will not only give your gift a mark of distinction, but save you time agonizing over what to give. Writer Ali Cox says she has found her signature gift in dill oyster crackers. She packages them in a plastic bag for freshness but also includes an interesting holiday-themed bowl in the final gift. "Last year, my friend Katie told me that she and her three boys tore into the bag as they left our driveway (she was dropping off her famous turtle chocolates). Their taste buds had been assaulted by so many sweets, and they were all thrilled to have something salty," she says. 
Writer Erin Parkhurst's signature holiday gift is homemade English toffee, a tradition she learned from her mother. She makes it for friends, neighbors, teachers—"even the bus driver and postman." She loves giving toffee because "the buttery smell of the warm candy cooking on the stove brings back lots of lovely childhood memories." She packages it simply—in a clear cellophane bag with a pretty ribbon or a waxed paper-lined, brightly colored Chinese food carton.
Writer Patricia Held and her mother give a special signature gift as well. "After years of baking traditional cookies for the holiday season and sending them to friends and neighbors, we decided a change was in order," she says. "Restrictive diets and simply too much food during the season caused us to rethink our gift-giving tradition," she explains. Now, she and her mother make evergreen wreaths for about 50 families. Production is a science: They purchase wreath frames throughout the year when they're on sale, make bows over the summer, collect greens in November and distribute wreaths by the first week in December. "For some, this is their only decoration, and for others, it is one of many in their home," she says. 
Books, Books, Books
It's not surprising that books are a favorite gift to give and receive among our writing and publishing types. Publisher Julie Pierce says, "Almost anyone, young or old, will appreciate a nice hardcover book on a subject they enjoy." Consider the latest bestselling novel, an inspirational book, a cookbook, a how-to book, a coffee table book or even a book on tape for someone who may not love or have time for reading. She also likes to give a gift to go along with it: a pretty bookmark, an assortment of tea, coffee and chocolates, a cozy throw or a book light. Writer Lauren McKee, who also counts books as her favorite gift to give, says, "My favorite part of giving a book is writing a personalized message inside the cover that I know will outlast the celebration itself."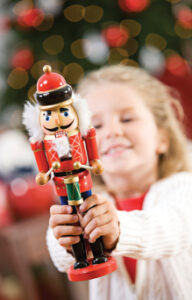 Creative Gifts from the Heart
Consider this extra special gift received by Sarah Burton, HOME account manager and writer, for a twist on treating the recipient. On her wedding day, she and her husband received a card from a good friend with a note detailing memorable moments throughout their friendship. "Both my husband and I laughed and cried while reading his note aloud," she says. At the end of his letter, he told them of dinner plans he had made for them during their honeymoon; all the Burtons had to do was show up and enjoy a fantastic meal on him. "We left that night with full tummies, hopeful hearts, and a memory that literally will last a lifetime," she says. Production assistant Trisha Roth suggests a similar gift for couples—a night at a bed and breakfast. "Babysitting is included, if there are children involved," she suggests.
Writer Mitzi Bible is particularly considerate in gifting friends who may be going through a difficult time. She recently sent a small birdhouse her children painted to a friend in Florida who lost her son last year. "I knew she had planted a memorial tree in her backyard, and now she has a small birdhouse, painted with lots of love and thoughts of her and her son, to hang on the tree," says Mitzi. Around the holidays, it helps those who are grieving or having a hard time to know someone else remembers, too. A thoughtful ornament is another way to honor such a friend.
So this holiday season, we hope you'll take a page from HOME and try one of these gift ideas for the special folks in your life. We hope you find as much joy in giving these gifts as your recipients will feel in receiving them. Happy Gifting!