A Peek at Antiques | Know Your Classic Porcelain Styles & Patterns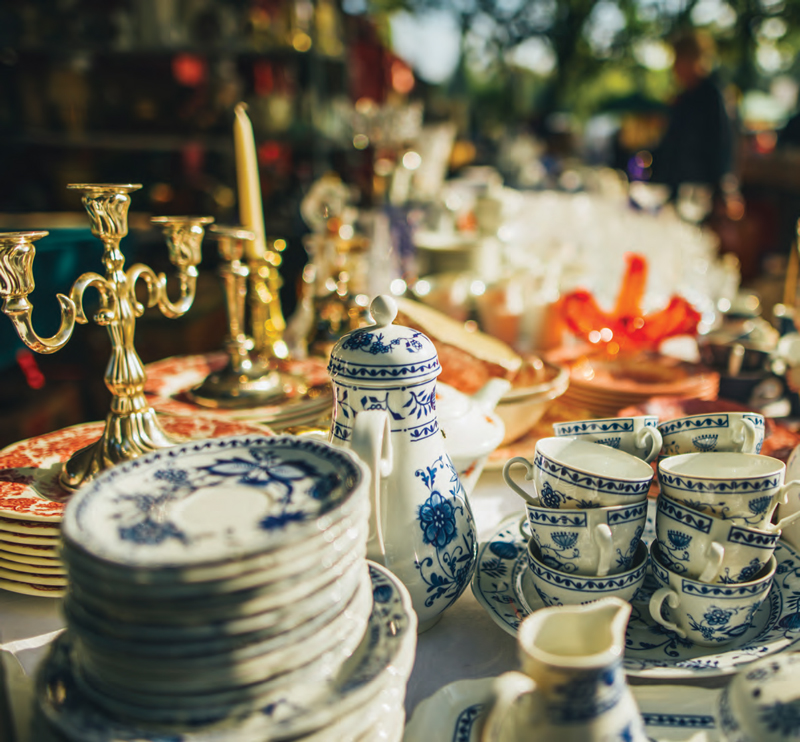 There are few things more charming than walking into an antique store and seeing an array of porcelain serve ware in various prints, patterns and colors. This porcelain, collectively referred to as "china" because of the country of origin, has been highly collectible since the 18th century, when it was created specifically for export to Europe and America. Often considered more like art than items used on the dinner table, collecting them can be a thrill.
Many of these older pieces are made of either hard- or soft-paste porcelain. Hard-paste porcelain is fired at a higher temperature than soft-paste, and can be recognized by its bright white color. Soft-paste porcelain is fired at a lower temperature and is more delicate than hard-paste. Bone china is a type of soft-paste porcelain which contains clay and bone ash, and is extremely translucent. So whether it's bone china from England, hard-paste porcelain from China or soft-paste porcelain from various countries in Europe, there are many different options to satisfy collectors' tastes and desires. Here are just a few classic styles and patterns you may come across…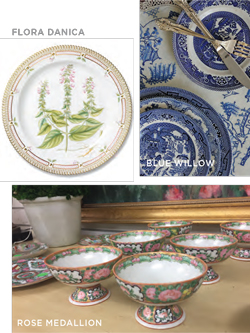 THREE HISTORIC STYLES
Spode
The Spode Company, credited with inventing bone china, was created by Josiah Spode in Staffordshire, England in 1761. By 1770, Josiah Spode II had become a master potter and took over the company from his father. His early pottery was called creamware, a cream-colored earthenware whose color was a result of the lead present in the glaze used in firing. Creamware evolved into pearlware, which was a white glazed earthenware sometimes covered with a blue transfer print. The transfer process involved engraving a copper plate with an image, then transferring it to the pottery using a thin piece of paper. This "transferware" was able to be mass produced and was more affordable than the traditional hand-painted pieces. In 1816, Spode's Blue Italian transferware arrived on the open market. Blue Italian contains beautiful images of the Italian countryside—scenes from the Great Bath at Tivoli, Umbria, and the Piedmont and Lombardy regions—and is highly sought-after.
Celadon
Celadon, named for the color of its glaze, is another type of porcelain or stoneware that has stood the test of time with collectors. It was extremely popular before the rise of the Chinese blue and white period. There are different colors of celadon, ranging from a jade green to a pale bluish/green to putty. Celadon with a transparent glaze is known as greenware. Some early celadon pieces date back to 220 AD and were revered by the Chinese people because of its similarity to jade (known as "The Emperor's Stone"), which symbolized status, spirituality, purity and health. Celadon can be either plain green or decorated with images such as florals, birds, butterflies and fish. Two famous lines of celadon from China, Yue ware and Longquan pottery, were the earliest examples of celadon. But by the 12th century, Korea was producing very ornate and high-quality celadon of its own. Japan and Thailand also began exporting celadon around this time, using both Chinese and Korean artisans as their influence. When China ceased exporting celadon in the 13th century, there was a surge of production from other countries which resulted in various styles of the stoneware, from vases, to covered bowls, to teapots and wine jars.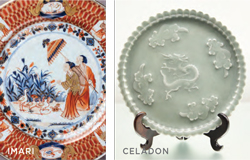 Imari
Japanese Imari-style porcelain was originally made in the 17th century in Arita, Japan. The name Imari comes from the port of the same name, where these beautiful gold, orange, red and blue pieces were exported to Europe. The blue color on Imari porcelain is referred to as an underglaze, because it was painted on before the piece was glazed and fired. Early designs were inspired by Japanese fabrics of the era, and often have roosters, bamboo, floral, and geometric designs painted within borders and panels. By the 18th century, China began exporting inexpensive Imari, and Japan could not stay competitive in the western market. This allowed many other companies to start production of Imari, such as Coalport and Derby in England, and Meissen in Germany. In the 19th century, Japan was able to enter the market again; however, by this time the quality had declined, and the craftsmanship is noticeably different.
THREE CLASSIC PATTERNS
Rose Medallion
Perhaps one of the most popular porcelain patterns created in China is known as Rose Medallion. Rose Medallion was first made in the mid-19th century, and is recognized by a central medallion of a bird or peony (the unofficial flower of China), with four or more panels surrounding it depicting birds, people, flowers and butterflies. This classic pattern contains various shades of red, blue, gold, pink and green and is finished with a rose-colored glaze. There are two variations of Rose Medallion: Rose Canton and Rose Mandarin. Both are similar to Rose Medallion; however, Rose Canton does not contain any images of birds or people, and Rose Mandarin will have people, but does not have birds. Early Rose Medallion (circa 1850) is unmarked, as was the custom in China at that time. However, in 1890 the United States passed the McKinley Tariff Act, requiring imports to be marked with the country of origin. These markings were at first the country name in all capital letters. In 1921 there was an amendment which added "Made in…." along with the name of the country. These markings are used today in dating many pieces of antique china.
Blue Willow
Take a look in almost any antique store and you will find Blue Willow china. Blue Willow has been in continuous production for over 200 years, longer than any other pattern. Although this pattern has been manufactured by many different companies, the design remains consistent. The true Blue Willow pattern always features a willow tree, a bridge, a pagoda, an island, a boat, a fence, birds, three people, and an orange tree. Some collectors believe these images relate to an old Chinese fable about two lovers running away together and turning into doves. Blue Willow was introduced into England in the mid-1700s, and eventually many companies started making similar pieces due to its popularity and high demand. Today you can find these beloved patterns not only in blue, but red, green, black, purple and many others.
Flora Danica
Flora Danica ("Danish flowers") by Royal Copenhagen is one of the most renowned and expensive patterns in the world. It was originally hand-painted by the artist Johann Christopher Bayer over 200 years ago. Each piece is graced with a different floral design and boasts 24-karat gold edges—a sign of Roman influence, as Romans traditionally gilded the ceilings of most of their temples and palaces. The very first set of Flora Danica, made by the Royal Copenhagen Porcelain Manufactory in 1790, was supposed to be a gift to Catherine the Great of Russia from King Christian VII of Denmark. She died before the set was completed, and the king kept it in his possession. Flora Danica is still hand-painted to this day, and can even be made to order from the pages of the Flora Danica Botanical Encyclopedia.
Although these are popular styles and patterns with wide appeal, there are many other collectibles to discover. Whether you are a seasoned shopper with a vast knowledge of antiques or a budding china enthusiast, it just takes one piece that you love to start your new collection.
Special thanks to Harriet Hellewell for sharing her antique china expertise with the author.
Antiques, Blue Willow, Celadon, china, collectible, Current Issue, Flora Danica, hard-paste porcelain, Imari, patterns, porcelain, Rose Medallion, serve ware, soft-paste porcelain, Spode