A Home with a View | Hillside Ranch Renovated into One Couple's Haven
Photography by Jared Hall
Paul Economy and Randy Craver had been together for almost two decades when their settled lives took a turn—well, several turns actually—and good ones at that. For the majority of those years, Paul and Randy balanced their demanding professional lives with community and church involvement, but their creative outlet was a meticulously restored historic home in the Old Southwest neighborhood of Roanoke. According to Randy, in 2016 the couple got a "surprise out-of-the-blue offer" to purchase the house. It was an offer they couldn't refuse, and suddenly they were plunged into house hunting.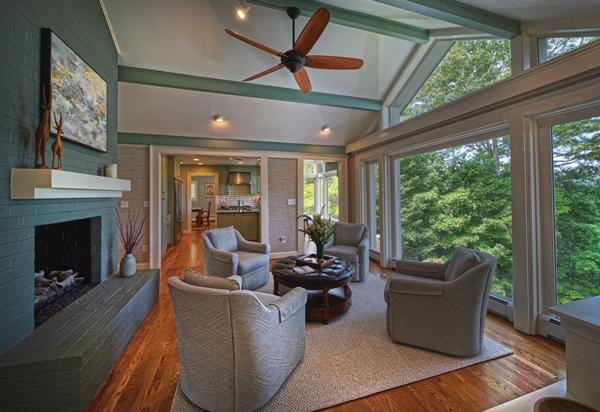 After the charm and historical nuance of a century-old home, especially one that had been fully renovated and restored, the 1965 brick ranch-style home on a hillside didn't immediately grab their imagination when they first drove by with their Realtor. However, once they stepped inside, they realized that this house had something special. "We probably looked at 30 houses with our patient Realtor and friend, Mary Chisholm of Wainwright and Co. Realtors, and this one was one of the first ones we looked at," says Randy. "We both walked in and said, 'Oh my gosh…the view!'"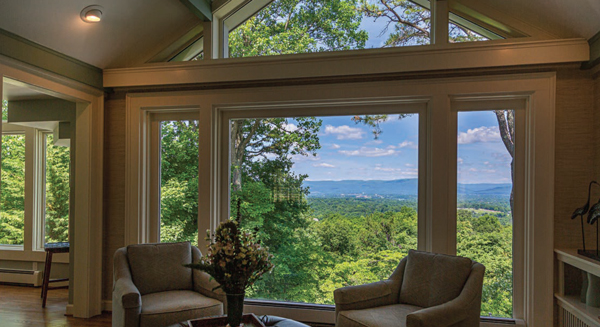 The view—a panoramic westfacing vista of the Roanoke Valley spread like a picnic blanket below—was truly breathtaking, but the house itself was dated. "Everywhere we looked there were things that needed to be changed," says Randy. The house felt cramped and awkwardly laid out. The interior was dark, painted in a brown and orange color scheme popular in the late sixties. The kitchen had wood paneling, no flow and four different types of countertops. "To go out onto the back deck required climbing over a radiator, and all the bathrooms needed updating," he says. Overwhelmed, the couple passed on the home, hopeful that they'd find a house that didn't need so much work, but as their house hunt continued, they kept returning to the home with the view. It was because of the view that Paul and Randy eventually purchased the brick ranch and set about making it their own—a plan that meant some major changes indoors and out: a whole new color scheme, new kitchen, bathrooms, an outdoor area with lots of room for entertaining, and a pool.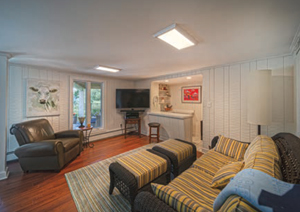 Their first call was to Rob Schroeder of RJS Builders. Schroeder helped with renovations on the couple's first home in Old Southwest, and both Randy and Paul are big fans. "Rob is amazing," says Randy. "We had a great working relationship. We told him what we wanted to do and then he told us what we could realistically do, and eventually we arrived at a design we loved." The natural setting and the showstopper view meant that this home would have a very different feel from their last. Their goals were to open up the warren-like interior and showcase the view as much as possible. The couple envisioned an uncluttered, serene interior that would feel more like a retreat when they stepped in the door. Longtime admirers of Restoration Hardware, they chose variations of the "Silver Sage" palette. In fact, the home is painted entirely with RH colors both inside and out.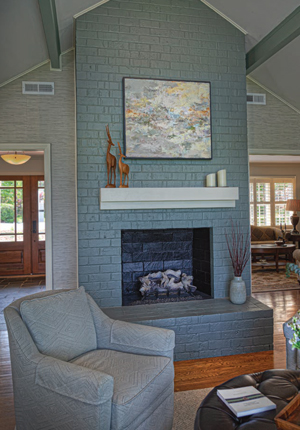 The house is deceptively large and open inside, from the foyer filled with light thanks to two glasspaned front doors, through to what they call "the fireplace room"—a cozy space between kitchen and den—that sports a soaring cathedral ceiling and a wall of windows. Originally a dark pinepaneled room with a masonry fireplace, it is now a bright and airy oasis. The room exudes a sense of tranquility. There are not a lot of things to compete with the view, and Randy explains that they intentionally didn't fill up the space, preferring to let the view absorb all attention. The abstract painting over the fireplace is by John Wiercioch, a local artist that the couple admires and collects. "Really the only thing we did in here other than paint was add the grass cloth wall covering, some can lighting, painted the fireplace and added gas logs, and it's now probably our favorite room," says Randy. "It's where I gravitate for meditation, devotions and prayer. I mean, how could you not feel inspired here?"
By knocking out the brick wall leading to the deck from the den and replacing it with a four-panel glass door, they really achieved their goal of an open feel at the back of the house. The kitchen flows seamlessly into the fireplace/meditation room, which in turn flows into the den. In the far corner stands one of Randy's best finds: a giant piece of driftwood, its gnarled "fingers" stretching up towards the ceiling. "I found this in a little outdoor shop when I was visiting Apalachicola, Florida," he says, noting that it was covered in dirt and laying on its side. He bought it, brought it home, cleaned it and applied tung oil, revealing the natural variegation of the wood. It now serves as a conversation piece.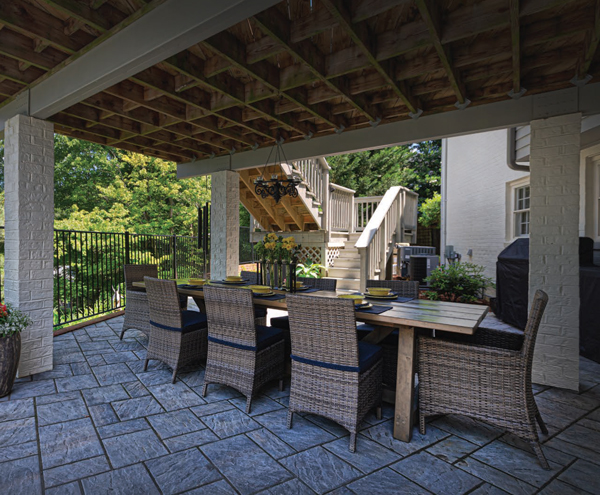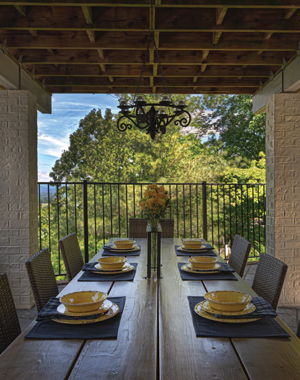 The couple grew tired of collecting the patio cushions on the porch every time rain threatened, and so in the summer of 2019, they made the decision to enclose the existing back porch. With a brand new roof and screens, the porch has now been transformed into a space that can be used three seasons of the year, and the upholstery can stay put, no matter what weather threatens. The couple collaborated with Eric Lawhorn of Construction Marketing to complete this beautiful addition.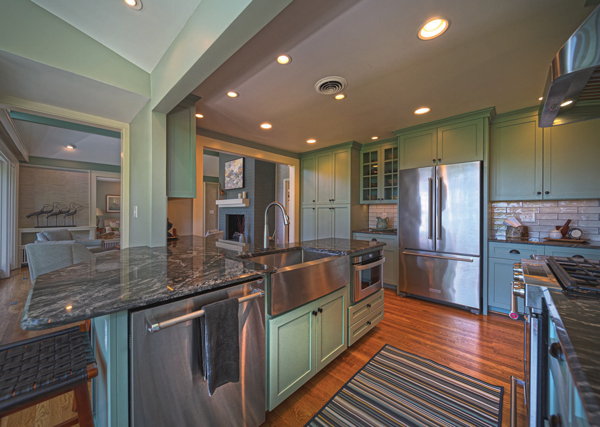 The kitchen required a complete overhaul. Its original cramped floor plan has been opened up and reoriented to face the floor-to-ceiling windows. The couple chose heavily veined granite countertops, as a nice contrast to the simple Shaker lines and muted colors of their cabinetry. One thing both agreed on was having enough glass-fronted cabinets to display their extensive pottery collection. "We adore pottery, and we love to collect local pieces," says Randy. "These are too pretty to hide behind a cabinet door."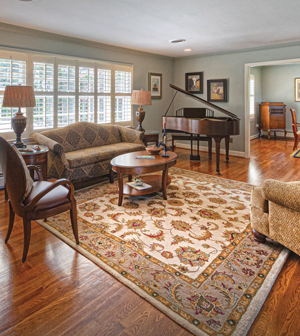 Like most houses built in the 1960s, Paul and Randy's home has the ubiquitous formal living room and dining room, but in this house they feel less "formal" and more like a living travelogue of memories. It is in these rooms where Randy and Paul have placed items that have personal meaning to them, things they've collected over the years, gifts from family and friends, treasures from travels and missionary trips. Blown glass, Italian sculpture, pen and ink drawings, an ornate antique chandelier, and a Victrola lovingly hand-restored by Paul's father—everything, as Randy says, from the "quite valuable to 'just things we liked'"—enjoy pride of place on the walls and in the built-in shelves. In the corner stands a 1933 Kroeger "petite grand" piano (a slightly smaller version of the familiar baby grand) that Randy plays regularly.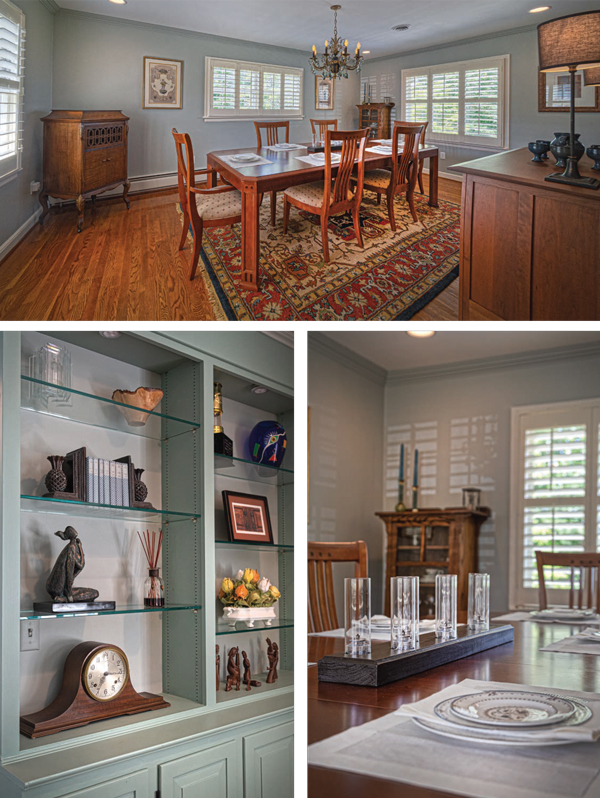 IT IS REALLY THE OUTDOORS THAT SOLD PAUL AND RANDY ON THIS PARTICULAR HOUSE, AND IT IS THE OUTDOORS THAT REALLY MAKE THIS PROPERTY SPECIAL; IT EVEN DREW CROWDS AS A FEATURED HOME DURING HISTORIC GARDEN WEEK IN 2019.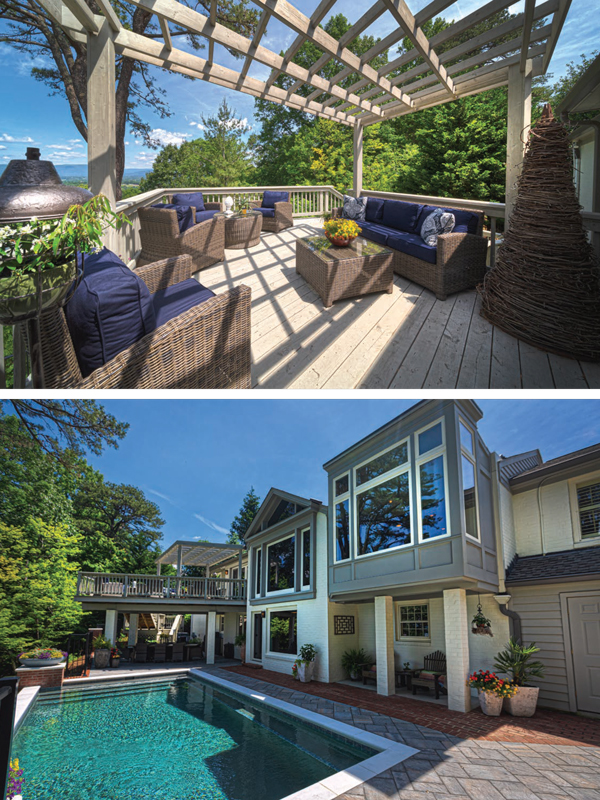 It is really the outdoors that sold Paul and Randy on this particular house, and it is the outdoors that really make this property special; it even drew crowds as a featured home during Historic Garden Week in 2019. The couple enlisted the help of Jason Vaughn at National Pools to create their dream of a glamorous 1950s-era pool. It is no small undertaking to build a heated salt water pool into a hillside, and Randy credits the team at National Pools and the landscaping company Groundscapes that brought the dream to life. "They were absolute geniuses. It was quite an undertaking," he says. The pool required concrete with rebar that curves around the base of the pool, and Groundscapes installed slate-colored pavers to blend with the color of the pool walls. "We often get up at 5:30 in the mornings to swim and we pretty much live out here in the summertime." Around the pool, large planters brim with bright flowers in sunloving hues, and just beyond, the stunning backdrop of the whole Roanoke Valley stretches out below.
THE COUPLE DESCRIBES THEIR LANDSCAPING STYLE AS "RELAXED FRENCH," A COMBINATION OF STRUCTURE AND NATURAL PLANTINGS THAT COMPLEMENTS THEIR HILLSIDE RETREAT.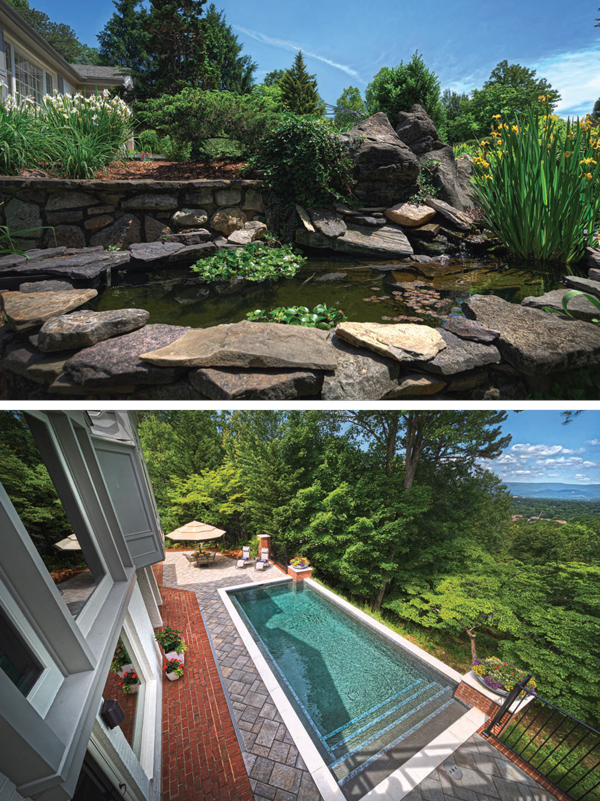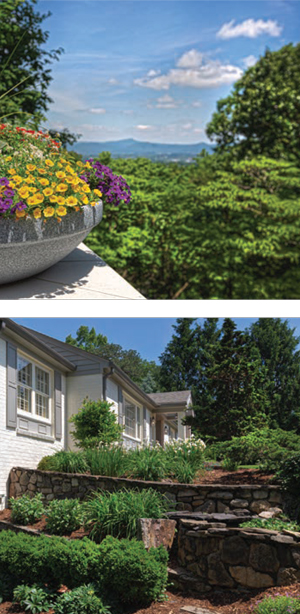 The couple describes their landscaping style as "relaxed French," a combination of structure and natural plantings that complements their hillside retreat. The couple inherited a small man-made pond and waterfall in the front yard—home to six goldfish and three koi—but they have added their own flair: several water hyacinth and yellow irises which appear to be thriving. They have also made the outdoor areas feel like extensions of the home. In addition to the pool, the outdoor spaces have been arranged into outdoor rooms of sorts: a small cocktail area, several groupings of elegant patio furniture, and adjacent to the pool and sheltered by the recently completed covered porch above, a generous al fresco dining area anchored by a cedar table with seating for 12. "I saw this table at Restoration Hardware in New York for thousands of dollars, and I thought, 'I can make that!'," says Randy. "So I took a zillion pictures and came home and did it."
Retirement has clearly not meant rest to Randy Craver. He has arranged his garage to allow for easy transformation into his workshop as needed. There, channeling skills he learned from his carpenter father, Randy did, in fact, make the table himself, even sourced just the right stain to give the wood the warm honey color he so admired at Restoration Hardware, and then enlisted help to move the finished product to its current location. "Oh it's extremely heavy," laughs Randy. "Two people alone cannot lift this table."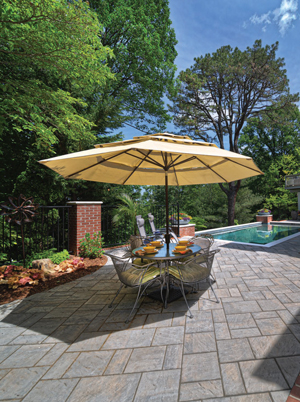 Life has a way of serving up twists and turns: a surprise offer on a home, a new project, a long-awaited retirement, even a marriage. "Paul and I waited until I was retired to get married," says Randy with a smile. "But we are probably two of the luckiest people in the world." ✦
1950s-era pool, 1965 brick ranch-style, floor plan, HILLSIDE RETREAT, historic garden week, natural setting, panoramic, RELAXED FRENCH, renovated, Showcase Home, showstopper view