A Dream Home for the Holidays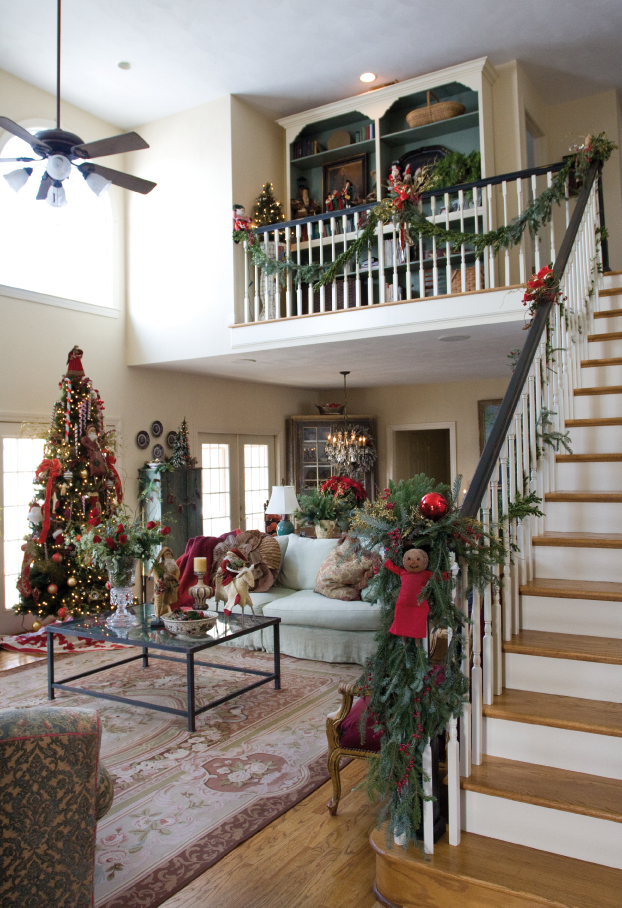 Photography by: Photos by Jessica Shea Photography
Darlene and Kent Taylor built their dream home eight years ago. It encompasses everything that they ever wanted and represents an eclectic mix of some old treasures and new pieces. They spent years planning every detail of the home's design and its décor.
When Darlene talks about her house, it is impossible for her to leave out another important facet of her life: her work. It is through hard work and tenacity that Darlene and Kent Taylor have been able to achieve their dream home. She began her career with C & P Telephone just out of high school as a telephone operator. Today, 38 years later, Darlene has watched her company grow and change. Her job has blossomed and now she is responsible for five of Verizon's Virginia regions. "I love what I am doing!" says Darlene. She points out that they could never have achieved this dream had she not persevered with her company.
Previously the couple lived in Roanoke. "We wanted to move to Botetourt County because of its beautiful setting," says Darlene. "My husband is a golfer and he always wanted to live on a golf course." Today they live on the second hole of Ashley Plantation Golf Course.
When the couple planned their new home, they wanted to encompass both old and new. "It took two years to find a design we liked," says Darlene. They finally chose an open floor arrangement, ideal for entertaining. A large living room with a cathedral ceiling, first floor master bedroom suite, and gorgeous views of the mountains in the distance combine to make this the ideal home and site for the Taylors.
Local designer Vera Silcox was a great help with the project. "Vera is my mentor and has helped me from the ground up," explains Darlene. "Her suggestions made a big difference." Before their current home, Darlene and Kent lived in a saltbox colonial. Their new home called for a different décor, and Darlene relied on Vera's help with the decorating task.
"I was very methodical about selecting the furniture," says Darlene. "There was little of my old furniture that I kept." She describes her style as a mix of Country Living and Southern Living. Many of the current furnishings come from Present Thyme. "They have the look that I want," says Darlene.
Vera will often help Darlene find just the right piece to suit her style. Vera is always on the lookout for things that might suit Darlene's taste, and if she sees something that she thinks Darlene will like, she calls her to come take a look at it.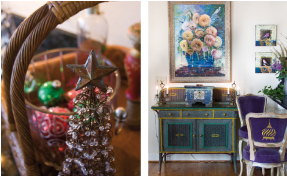 Over the years, Darlene has enjoyed learning more about art and developing her own personal tastes. "Art makes a big difference in a house," she says. Many local artists are represented here, including Diane Patton, Katrina Bell and Greg Osterhaus. Her art collection includes abstract, contemporary and traditional styles that work to bring color and varying degrees of light and dark shades into the interior. Darlene believes in surrounding herself with art and culture. It has helped her to grow. "Twenty years ago I would never have selected this kind of artwork," she says.
The heart of the main floor is in the kitchen. Kent, who is the chief cook in the household, made sure that the kitchen was designed to his specifications. "We wanted our kitchen to be useful," says Darlene of the well laid-out room.
Dale Davis of HeartWood Cabinets created the kitchen cabinetry. According to Dale, "The kitchen's design allowed us to include some very special features in our cabinets." For example, the ever-so-important center island, with granite tops for food prep and lots of shelving for storage, is both functional and beautiful. It boasts decorative fluted columns with "cookie cutter corners"—meaning the columns are placed on an angle for visual effect.
Another custom touch includes individual window panes in the kitchen cabinets to show off some of Darlene's collections. For the holidays, Darlene replaces most of her English black transferware with greens and folk art Santas. The interior cabinet walls are painted a distinctive "Old World" green. This was another of Vera Silcox's excellent suggestions.
An unusual wicker sideboard is a favorite of Darlene's. She rescued it from their outdoor porch. Now it serves as useful storage space and is bedecked with greens for the holidays. "I loved the piece so much that I brought it inside, and it looks gorgeous!" says Darlene.
Darlene uses the same level of detail when decorating for the holidays as she does for her home décor. She likes to use both live and artificial floral arrangements throughout her home. Darlene credits her friend and mentor Lucy Tkachenko for her help with fresh floras. "I hope that I can inspire people to use mentors and learn from them. Lucy helped me set the stage using fresh flowers," says Darlene. The choice of containers is as important as the arrangement itself. In the kitchen Darlene displays a fresh arrangement in an antique mercury glass vase.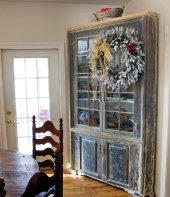 A cozy dining area and screened porch next to the kitchen offer a great view of the pool and golf course. An attractive corner cupboard is enhanced with its beautiful old hinges, and a lovely gate leg table with ladder-back chairs carries on the holiday theme with a pot of red poinsettias.
While she almost started from scratch to furnish her home, Darlene admits that there were a few pieces that she took from her last home. "I brought this primitive piece," says Darlene, pointing to a small cupboard that looks very distressed and old. "It is from the late 1800s and has its original paint." She explains, "I love taking country and primitive and mixing the styles and adding some new."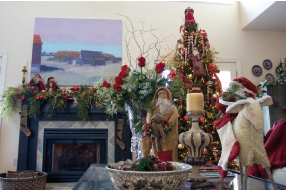 The living room's cathedral ceiling lends itself to holiday decorating. Here the centerpiece is a large tree decorated with varying shades of red. Darlene uses a traditional red and white quilt as a tree skirt.
The holidays have always been special for Darlene. "I have always enjoyed Christmas, from the time I was a small girl," she explains. "I must have inherited the joy of doing it." Growing up, her family always decorated, and she has carried on the tradition. So it is no surprise that Darlene has been collecting holiday decorations for over 30 years. And, as Darlene points out, the home's layout is "an inspiration to decorate."
Decorating begins early in the season for the Taylors. A joint effort, their decorating begins in earnest right after Halloween, and their home is ready by Thanksgiving. Several open houses, family visits, and grandchildren are the prime motivators. "We enjoy the holidays!" exclaims Darlene.
The living room mantel is a piece of salvage that Darlene and Kent found in Greensboro. Darlene uses an unusual mix of greens as a bough for her mantel; a variety of evergreens combined with maidenhair fern creates layers of color and textures. She points out that most of her decorations involve contrasts of light and dark or shiny and dull. "I like to mix the looks," says Darlene. "It brings it all together." Darlene finds most of her artificial greens at Main Street Primitives in Salem. She will also mix live greens with faux. Christmas is literally everywhere throughout the house. Even an old portrait in the corner is adorned with holiday greens.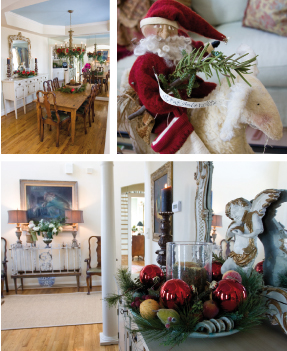 In addition to having many holiday trees throughout the house, Darlene also has an assortment of Santa Clauses. "I collect them from all over," she says. They are all handmade and some are quite old. Of particular note is her collection of Santas and other holiday creations by noted folk artist Jennifer Schneeman. "Whenever I can grab anything of hers, I do," says Darlene. Schneeman is known for her fine handwork using old materials and antique accents. Because she travels extensively for her work, Darlene often discovers unusual shops along the way. She has developed an eye for what will work in her home. When she sees something that she thinks will work, she buys it.
A lovely old farm table in the formal dining room holds a holiday centerpiece of holiday greens, red glass balls and candles. The chandelier is decorated with more greens, bright red blossoms and ice crystals.
Nearby, in the entrance hall, a lovely silver vase is filled with holiday greenery, and one of Darlene's prized Santas, dressed in Christmas green, sits on an ornate iron and stone side table.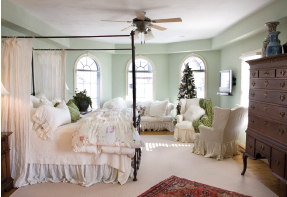 The master wing entrance features a short hallway of mirrors. Both bright and airy, the master bedroom has just the right tones of white and beige to create a relaxing space. A series of large bay windows with an off-white couch provide a well-lit sitting area. Bella Notte bedding, known as some of the most luxurious linens imaginable, are used here. Ornate mirrors and an antique highboy provide an air of elegance in this well-designed room. Of course, another beautifully decorated tree creates holiday spirit here. Darlene's folk art snowman tree in shades of white complements the room's décor.
Pillows and chairs are by Carol Hicks Bolton, who is known for her rich tapestries and aged finishes. According to Darlene, "The textures are different from any other kind of upholstery that you can find, and while her prices are high-end, they are worth it."
The master bath continues in a white and beige color scheme. The vanity is decorated with Italian marble, tumbled to give it an aged appearance, and one wall of the walk-in shower is made of leaded glass. A Katrina Bell abstract nude hangs on the wall.
The staircase to the second floor is elaborately adorned with a variety of greens. "I buy my live greens at the local markets as soon as they start to sell them for the season," says Darlene. To help keep them looking fresh, she sprays the greens with water regularly.
Proceeding up the stairs, the second-floor catwalk provides a great view of the decorations below. Shelving on the catwalk is used to display a collection of Byers' Choice holiday figures which are known for their unique appearance and handcrafted quality.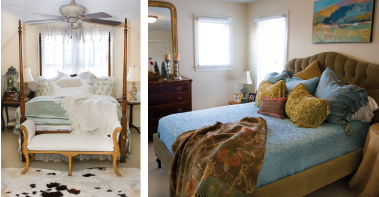 Each of the upper-level bedrooms is decorated with style and grace, using Bella Notte linens to create an inviting atmosphere for guests. Decorations abound upstairs as well, including a holiday tree with the theme "I Believe!" The tree is decorated with pinecones, icicles, and red and silver balls. Darlene has also inserted extra sprays of holiday greens between the branches to add even more texture and color. Most of Darlene's trees are artificial. She explains, "I want them to look real, and I want people to come over and touch them." A charming little bath is decorated with a primitive cabinet filled with holiday greens and folk art, adding a level of comfort to the room. Another bedroom houses her collection of antique dolls.
The lower level of the Taylor home features their entertainment area. "This is what we call the man cave!" Darlene quips. Another fireplace, a pool table, a large-screen television, comfortable seating, and a bar make this a great room for parties. Sliding glass doors lead to a manicured patio and an in-ground pool.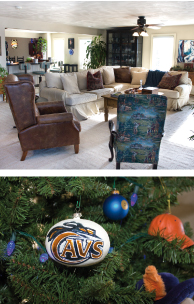 Kent is a huge Cavaliers fan and it is surely evident here. A holiday tree festooned in orange and blue as well as a full bathroom in UVA colors make it clear where the Taylor family's support lies!
Also on display downstairs are Kent's collections of jerseys worn by well-known sports figures including Johnny Unitas and Michael Jordan, as well as some Dale Earnhardt memorabilia.
The bar countertop is fashioned from sandstone, and the cabinets are distressed in tones of black. The area behind the bar features Kent's collections of old neon signs.
Clearly, this is the home of Kent and Darlene Taylor's dreams. They worked hard to achieve their dream, putting their hearts and souls into it. They are very proud of the final product. Her message to couples eager to find their perfect home: "Hang in there! You too can achieve your dream!"