A Cut Above | A Garden for Year-round Blooms
One of the most satisfying treats is a trip to my cutting garden for a huge bouquet of fresh flowers. With springtime just around the corner, I look forward to seeing the first daffodils burst forth after a long, cold winter, my first signal of spring. They pop up seemingly overnight at the first hint of warm weather, a ray of sunshine after the cold and drear. Soon tulips, forsythia, azaleas, hyacinth, dogwood and bearded irises join the celebration. Since I grow them, it's an extra treat that I don't have to buy them.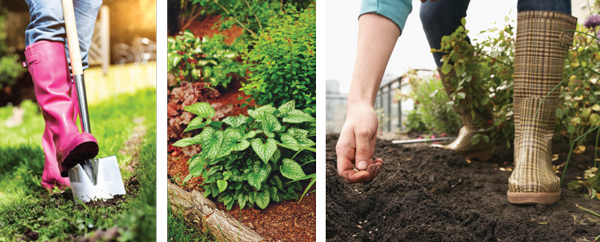 A cutting garden requires planning and research but yields beautiful rewards. For a bounty of blooms, location is key. Choose a spot that offers six to eight hours of full sun each day, good air circulation and well-drained, loosened soil. The site should also be close to a water source. Think you don't have any space left for a new garden? Try designating a few rows in your vegetable garden to flowers for cutting—a win-win all around, as you'll have blooms to snip as the flowers attract pollinators to vegetable blossoms a short flight away.
Soil quality and drainage are important components of a cutting garden. These flowers take a beating and need every advantage to recover from all that snipping; your bed needs a soil rich in organic matter to improve water retention and drainage. Work in several inches of compost or manure before planting, and make sure the area is weed-free. Although this garden doesn't have to look pretty, you don't want your plants to compete for nutrients and water.

Careful planning of the garden's layout will make for a more enjoyable endeavor. Ease of access is helpful in a cutting garden, and wide rows keep stems within reach. Be sure to leave paths between rows that are wide enough for you to move around and work. Grouping plants with similar growing requirements helps you give them all they need with minimal effort; it's easy to over- or under-water plants growing near others with different likes and needs. Once you've grouped your plants, divide them again by their eventual height. If shorter plants are overshadowed by taller ones, they won't get enough sunshine and will be difficult to reach for cutting.
Finally, you need to mulch. Groan away, but just do it; even in a cutting garden, mulch is crucial. It doesn't have to be fancy or expensive. You can mulch with shredded leaves or even sheets of wet newspaper. If your mulch decomposes to less than 1 inch of cover, it's time to top it off with a fresh layer.


Now decide what you'd like to grow. Remember, the goal is to grow as many flowers as possible, so aim for a variety of plants with staggered bloom times for a steady supply of flowers from spring through fall. Some gardeners select plants based on color, height and environmental impact, but for your first garden, choose flowers that will look great in your house when you arrange them. Consider varied stem length, plant some for fragrance, and throw in some filler flowers—baby's breath or coral bells.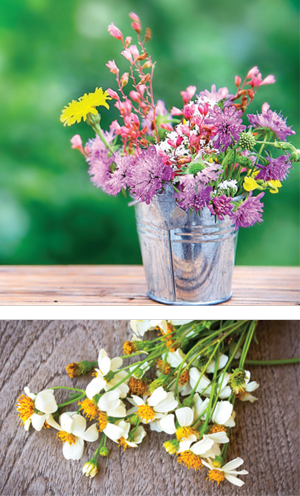 Annuals and perennials may be grown side by side. Annuals are the most traditional cutting flowers; they tend to grow quickly and bloom repeatedly, though often they don't last an entire growing season. Pick up extra seed packets in the spring so you can reseed when the first round starts to fade. Perennials like black-eyed Susan, coneflower, delphinium, foxglove, peony, phlox, iris, astilbe, lily of the valley and snapdragon need to settle for a year before they produce enough stems to cut.
---

CUTTING TIPS
Once flowers are blooming, use care when cutting them. To help blooms last longer in arrangements:
Cut your flowers in early morning, while the temperature is cool.
Use a sharp, clean knife or pruners.
Take a bucket of water into the garden with you and put the stems as you snip.
Select new flower buds that are still somewhat green
Keep cutting through the season! The more you cut, the more the plants will set new flowers.
---
Bulbs make great cut flowers, too—the nutrients reserved in bulbs support strong stem growth in a short time—with an array of colors available. Plant tulips, daffodils, and Dutch iris for spring blooms; dahlias, lilies, and calla lilies are summer favorites. Bulbs grow to varying heights; gladiolas are a particular favorite of mine—long, skinny sabers of blooms that look amazing in a tall vase. Cut a bunch of these and you'll feel like a Jedi wielding a light-saber of exquisiteness.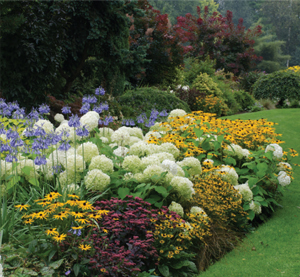 Tuck in some foliage plants with your flowers to add pretty leaves for arrangements, in variegated hues of green, pink and red; choose those whose leaves are interesting in shape and size. Try lamb's ear, dusty miller, hostas, coleus, ferns, eucalyptus and flowering kale. Ornamental grasses can be lovely in bouquets; herbs add fragrance to pretty posies. Try basil, oregano, sage, mint, lavender, lemon balm—all beautiful and aromatic.
Don't forget to attract pollinators with nectar- and pollen-rich plants like wildflowers and old-fashioned varieties of crocus, hyacinth, borage, and calendula—enticing spring blooms for a bee garden. Bees also feast on bee balm, cosmos, echinacea, snapdragon, foxglove, and hostas in summer; zinnias, sedum, asters, witch hazel and goldenrod are fall bloomers to tempt foragers. These plants treat pollinators through the growing season. Butterfly larvae love dill, fennel and milkweed, as well as single flower tops like daisies and marigolds; skip double-headed flowers like double impatiens; they look showy but produce much less nectar that is hard to access.
Cut to the chase: get out of your comfort zone and into a cutting garden. Experiment with new varieties of plants along with your favorite flowers and foliage and grow what you love. If it makes you happy, by all means choose happiness. ✦
annuals, asters, astilbe, Bee Balm, black-eyed Susan, borage, Calendula, calla lilies, coneflower, cosmos, crocus, cut flowers, Daffodils, dahlias, delphinium, Dutch iris, echinacea, foxglove, fresh flowers, goldenrod, Hostas, hyacinth, iris, lilies, Lily of the valley, mulch, peony, Perennials, phlox, planning, pollinators, sedum, snapdragon, Tulips, witch hazel, zinnias