A Collector's Masterpiece | Holiday Decorating Reaches New Heights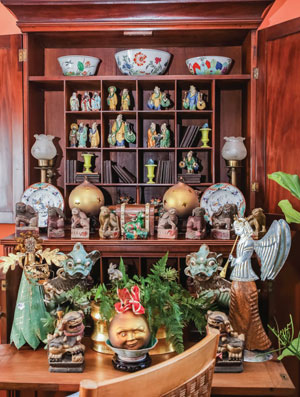 Photography by Kathryn Feldmann
This stately brick Colonial on a quiet South Roanoke street, designed by Stone and Thompson architects, was built in 1954, by then-president of Norfolk and Western Railway Robert Hall Smith and his wife Mary. Over the years, the home was passed down through the family and is now owned and treasured by their grandson Frank and his partner Debra Cunningham. The home was modeled after Mary's childhood home in Pulaski, Virginia. As it passed through generations, the home became, at various times, a temporary residence for family and friends passing through town. Years ago, when Frank showed Debra the home, it had not been lived in for several years. "It was just so lonely and sad," Debra says, recalling her first impression. "It even smelled musty and unloved." The couple resolved to renovate and update, making the old place back into a home. Like his grandfather before him, Frank put the design decisions into the capable hands of his partner.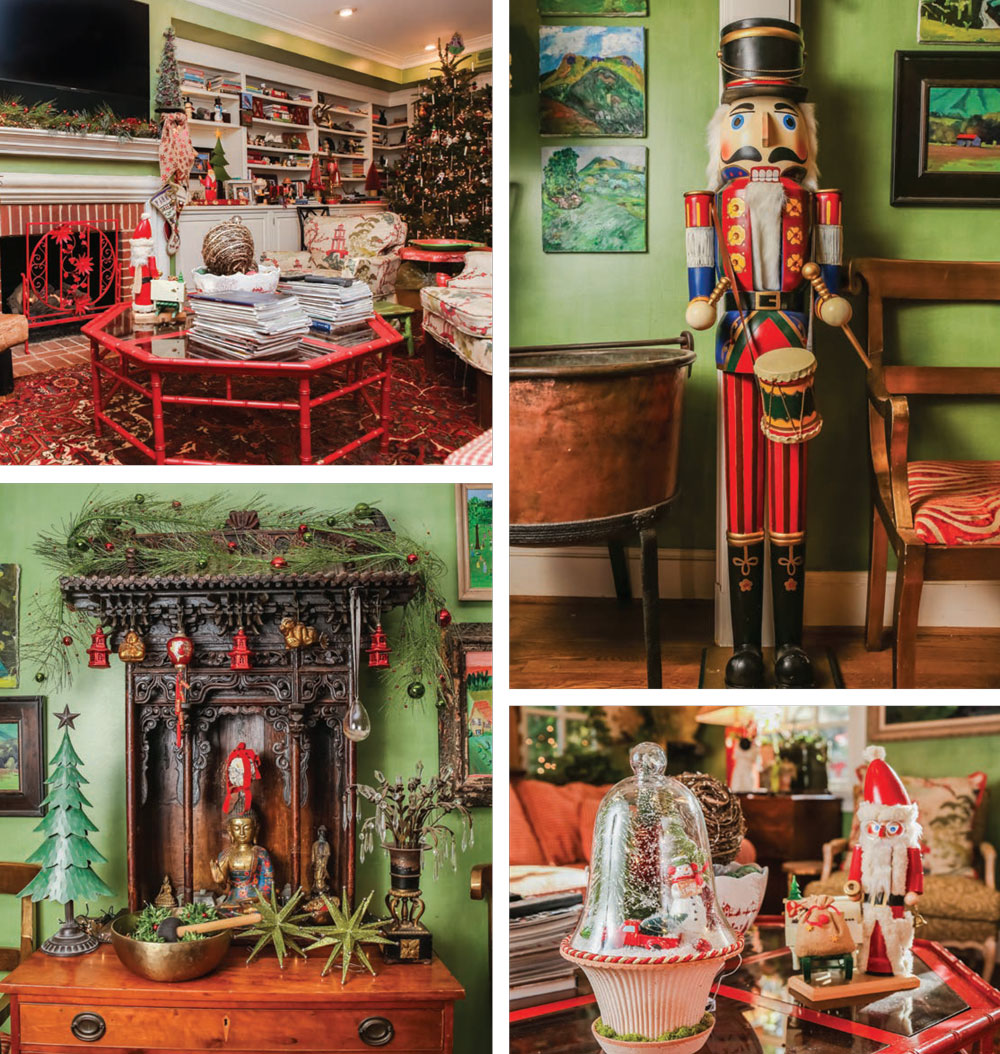 After managing local gift, home accessories and kitchen boutique Provisions/RSVP for over 20 years and running her own stationery business, Debra had learned a thing or two about creating a welcoming and festive environment. Outside the kitchen door you begin to get a feel for what she can create; numerous potted evergreens surround the door into Debra and Frank's welcoming kitchen, garlands and ribbons festoon the doorway, ornaments twinkle, even the rabbit statues are dressed for Christmas. Debra, an avid cook, loved the idea of moving back to Frank's family home with one caveat: the kitchen needed a makeover to make it fit for modern living. The couple hired contractor Matthew Cadman with Bespoke Cabinetry, LLC. "I'm a cook, and I'm not easy on my kitchen," says Debra. "Matthew was a miracle worker."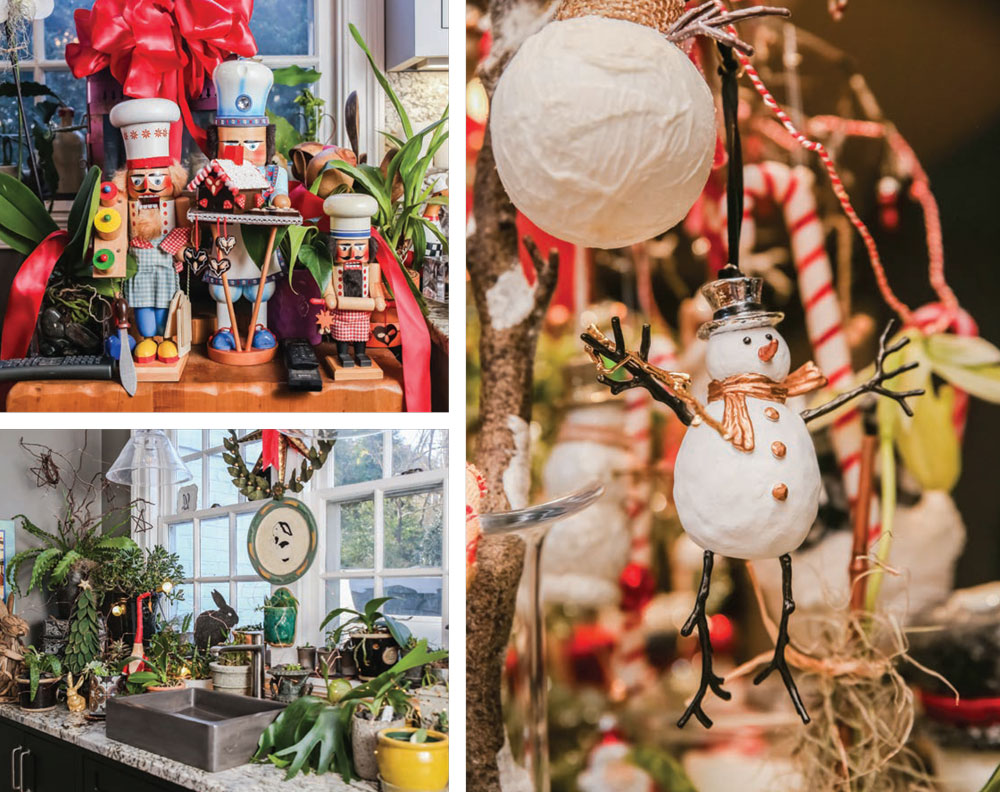 The kitchen renovation includes high-end appliances, leathered granite countertops with waterfall sides, and a large central island, open at the back and lined with metal—a stroke of genius, it turns out, because it prevents dings in the wooden cabinetry from heavy cookware. Custom floor-to-ceiling glass shelves run the length of the kitchen, providing Debra a place to store and display antique dishes and silver.
In a nook off the kitchen that once housed the washer and dryer, Debra has fashioned a clever coffee bar. Black enamel cabinetry and handmade tiles distinguish the space from the rest of the room, providing storage and a place to make the morning cup of joe.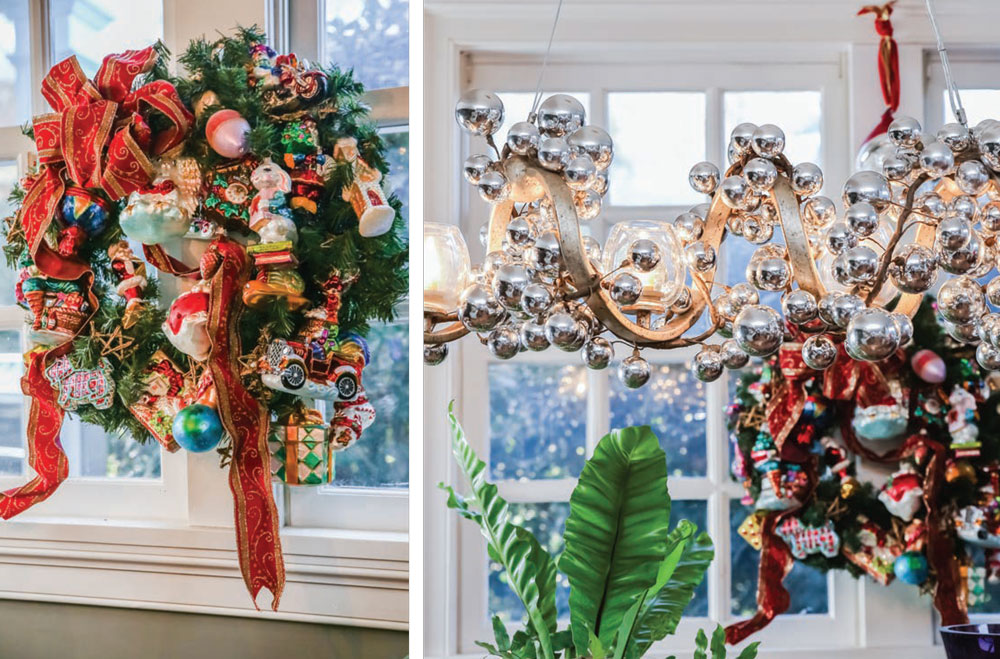 In addition to being an accomplished cook, Debra brings her 20 years of retail design expertise to her home holiday decorating. Holiday decor has been a passion for Debra for most of her adult life and she adds to her collections every year, shopping everywhere from high-end boutiques to yard sales. "I know that having things all over is not everybody's thing," muses Debra as she tinkers with her snowmen display. "But I am all about having the things that I love out on display."
In the kitchen, hints of red ribbon peek out from the many green plants and orchids that green-thumbed Debra has positioned by the windows. Debra is a self- proclaimed "regular" at Townside Gardens, and many of her houseplants, blooming orchids, and even her Christmas tree were purchased there. Above the heirloom dining table hangs a chandelier wound with silver ornaments and a wreath of delicate-but-broken European glass ornaments. "That's my Broken Christopher Radko Ornament Wreath," laughs Debra. "I actually have friends who save broken ornaments for me!" On the butcher block stands a veritable platoon of nutcrackers, and the kitchen island is taken over by dozens of snowmen of all different sizes.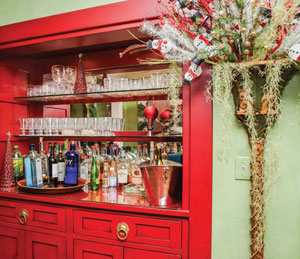 A large built-in bar is just outside the kitchen in a space that was once intended to house an elevator. "This is my favorite piece of our renovations," says Frank, of the stunning Asian-inspired red lacquer bar with brass pulls, glass shelving and recessed lighting. "Ever since a family trip to the Homestead Resort when I was a child, I have loved using reds in my design," says Debra. "Up there, they find a way to use them in every room." Mounted on the wall next to the bar is a large urn which Debra purchased at Bob Anderson Antiques and fills with a rotating cast of seasonal decorations. At this time of year, it is filled with greens, snowmen, and other seasonal ornaments, and trailing fronds of Spanish moss.
The family room beyond is painted a lively apple green which almost feels like part of the outdoors with windows on two sides. The built-in shelving provides plenty of space for more of Debra's seasonal collections: a set of Christmas trees she made herself, tiny wooden Barvarian "baby angels," several rabbit figurines. Debra adores rabbits. "Decorative ones," she clarifies. "I've had real ones before and was not a fan." Rabbits are a decorative theme that runs throughout the home, even at Christmas.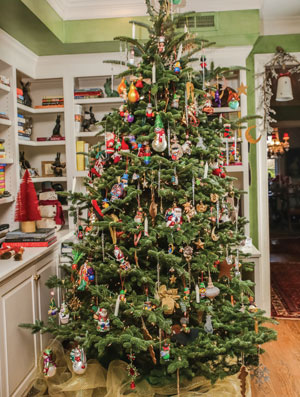 The Christmas tree, a live fir, is adorned with a lifetime's worth of family ornaments glittering in the twinkle lights. Comfortable upholstered seating is arranged on a red Oriental carpet, and atop a red bamboo table Debra points out her newest holiday acquisition: a snowman scene under a cloche that she found at Randy McManus Designs in Greensboro. Between the windows hangs a bucolic Sally Trotter landscape. Debra and Frank have a growing collection of local and regional artists, including Ted Turner, Mary Bullington and Courtney Cronin— even a few painted by the talented resident artist, Debra. Though modest about her work, Debra has a degree in art history, and has taken classes and dabbled in various media most of her life. Her home is a testament to that ever-evolving artistic sensibility.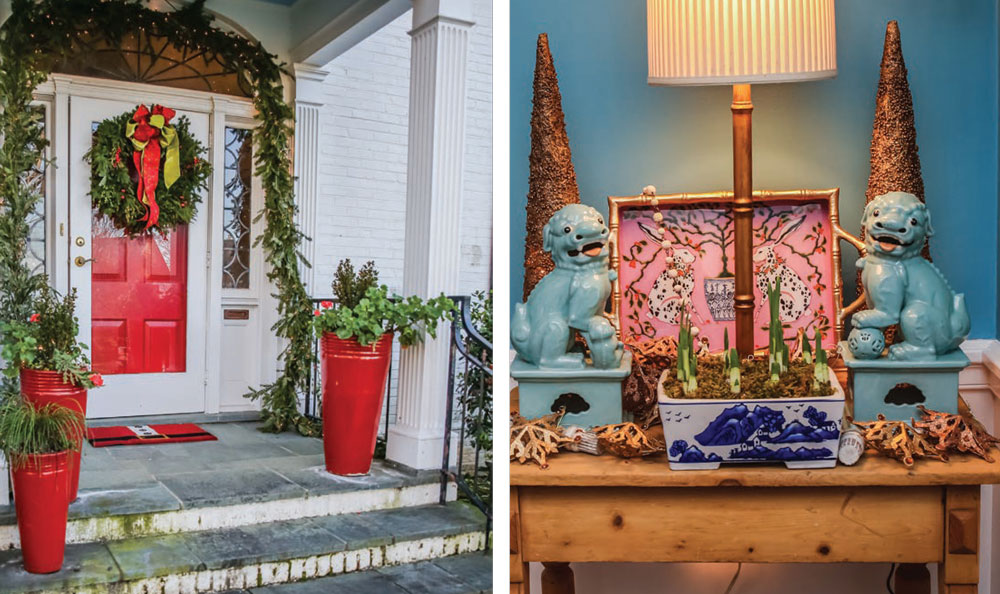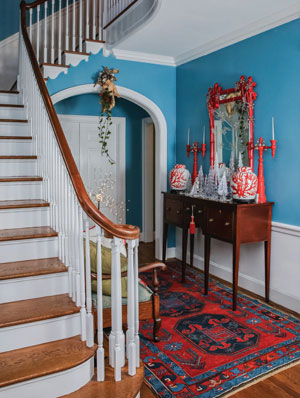 The home's entry is of gracious proportions. An extra-large front door with leaded glass sidelights and a fan-shaped transom opens onto a graceful staircase which climbs past a custom grandfather clock niche to an upstairs gallery. Debra enlisted guidance from designer Vera Silcox to replace dated wallpaper with a custom saturated blue in a high-gloss finish, offset by white trim and wainscotting on the stairway. "When the house was built the walls were actually painted a rather similar color. It's interesting we've gone back to it," says Debra. The original grandfather clock for which the nook was created passed to Frank's cousin, but Debra was able to find a worthy replacement. "I told Frank that he could choose," says Debra with a smile. "I could either buy a clock or I was going to put shelves in that niche and display another of my collections. Can you believe it? He chose the clock."
Debra indulged her love of color in the entry, choosing a mirror and tall candlesticks in a deep coral color, and porcelain ginger jars on a small sideboard. An heirloom settee with monogrammed pillows sits directly across. Overhead hangs a large pagoda-style lantern, also in coral, that Debra found at an antique store in Washington, DC. Debra's treasured collection of ethereal Simon Pearce handblown glass Christmas trees that she has collected—one each year—enjoy pride-of-place in the center of all this color.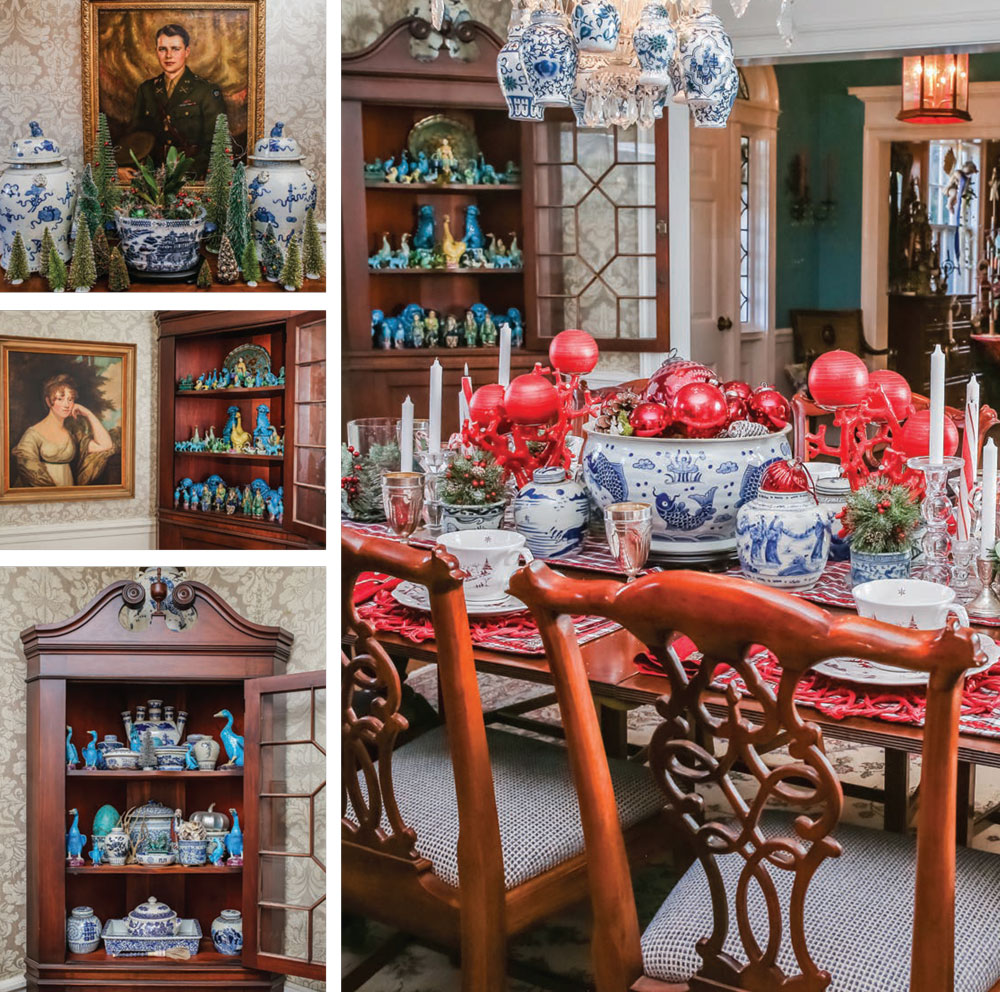 Beyond, in the large dining room, Debra has set a festive holiday scene on the antique table with plaid placemats, festive dishes, holiday greens, candy cane candles and sparkling red ornaments. Above the table hangs a crystal chandelier with red lampshades decorated with sprigs of ivy and half a dozen tiny ginger jar ornaments. This room's two antique sideboards are embellished by bows, ornaments, and a forest of small Christmas trees and more houseplants. "Once the outdoor temperatures drop, I have to bring everything in," says Debra. "Now I'm overrun!" The lush green plants make a cheerful contrast to the red holiday decor. The damask wallpaper has been here for over 30 years; it suits the elegant room and Debra has no plans for a change. Several family portraits hang here; a Dorothy Drew portrait of Frank's father in his U.S. Army uniform as well as portraits of Debra's sons, and a very old portrait of Margaret Smith, a distant relative of Frank's, who was the wife of Robert Smith, Secretary of the Navy under Thomas Jefferson and later appointed the first Secretary of State under James Madison. At opposite sides of the dining room, two corner cabinets display dozens of Asian figurines: foo dogs, ducks, geese and "mudmen," artfully displayed. The rest of this collection resides in the living room. "I have been collecting these for many years," says Debra.
The sun-filled living room is another canvas for Debra's artistic talent. The portrait above the fireplace is of Frank's mother, also by Dorothy Drew. The walls are painted a deep orange, chosen to match the clothing on the Chinese silkscreen that hangs above the antique couch. The Louis sofa and the oversized secretary in the corner were souvenirs of sorts, brought back from France in the 1800s by Frank's ancestor, Robert Smith (whose wife's portrait hangs in the dining room). The casual grouping of furniture is in keeping with Debra's own aesthetic, however. "Nothing really matches in here, but it just looks right together somehow," she explains. "I put my own spin on things. For instance, Vera found this ottoman and one day I came in here, turned it upside down, and painted the feet gold." That metallic touch complements the vignettes of antique silver and natural items such as seashells, crystals, even a tiny bird's nest on the nearby coffee table.
Debra has embellished the surface of the baby grand piano with a magical collection of silver Christmas trees, silver ornaments, and even a silver-clad Santa in a scene under a cloche (this one of her own making).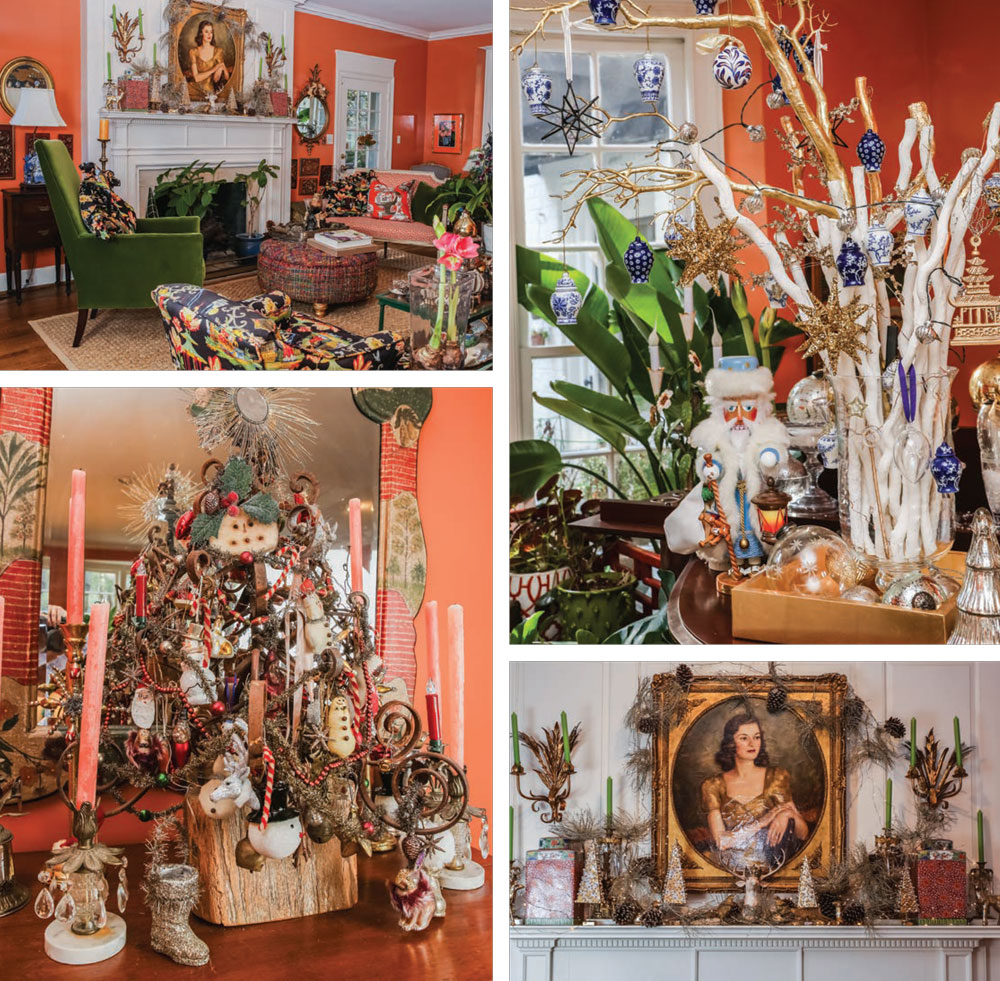 On a table between the windows is a primitive tree made out of dowels where Debra hangs all the ornaments that she has stitched over the years. "I love needlepoint," she says. "I have done it for years—stockings, pillows, once an entire church kneeler … but now I prefer smaller projects like these ornaments." The "tablecloth" was once a circa 1960s skirt that Debra's mother, who must have been quite artistic herself, hand-quilted and wore for years. "It makes me think of her when I pull it out each year. She looked so cute in that skirt," Debra says.
Thanks to Townside Gardens and her own green thumb, a profusion of green plants warms up the room, but once the weather warms up a lot of them move outside. The home's lot is both extra wide and deep, running up the hillside behind the house and patrolled by Debra and Frank's three Havanese. The dogs have full run of the rolling backyard where much of the yard work is done by Debra and Frank. Debra is the planter and designer, and Frank? "You know, I was the yard boy over here for my grandparents when I was 10, and here I am … still the yard boy," he says with a smile.

It does take a lot of work to keep up with a yard of this size. It would feel daunting, except that it has been broken up into more manageable garden "rooms". There is a large slate patio, with wrought-iron furniture, a covered porch, a grilling area, an extensive birdhouse collection, and a water feature incorporated into the retaining wall. Debra commissioned the chainsaw art rabbit, and she also constructed the trellis that enables the evergreen clematis and "Jefferson bean" (also known as a hyacinth bean vine) to entwine and grow up and around the windows to the den.
With the holidays coming, the Jefferson bean still has a few purple blossoms left and the clematis is just about to bloom.
For Frank Smith and Debra Cunningham, moving to an ancestral home has been the right choice. It has given them a chance to plan a space that pays homage to the past yet reflects their personalities and, of course, house those collections that are important to them. "The holidays are the perfect opportunity to enjoy the things that are meaningful and to surround yourself with things that make you happy," says Debra. "Some people look at all this and see clutter. I see joy." ✦
1954, built-in bar, candy cane candles, Christmas Tree, coffee bar, Colonial, festive dishes, floor-to-ceiling glass shelves, garlands, heirloom dining table, holiday greens, kitchen renovation, leaded glass sidelights, leathered granite countertops with waterfall sides, live fir, needlepoint, ornaments twinkle, plaid placemats, potted evergreens, rabbit statues, ribbons, sparkling red ornaments