Decorating With Portrait Photography: Displaying the Memories of a Lifetime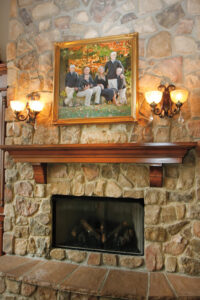 The happiest homes seem to be filled with meaningful personal treasures—hand-selected for display, either by us or for us. They're a tangible way of saying, "This is who we are and what's important to us."
Our family photos, whether they are carefully posed portraits or images caught during a memory-in-the-making, are perhaps the greatest treasures of all. Therefore, they are worthy of our consideration about how and where we should best display them in our homes.
Kevin Hurley, a professional fine art and lifestyle portrait photographer, says that something is always the impetus that prompts the decision to have a portrait taken. There's been a change, something new to celebrate, a special spot to fill in a special room. He says, "A professional photographer helps analyze a client's needs and come up with a plan to meet them."
So, instead of haphazardly displaying your photographs along with the clutter of life (or worse, leaving them forgotten on a disc in the desk drawer), it's wise to take the opportunity to plan and choose a method and a location to display them—thoughtfully weaving your portrait photography into your everyday interior décor.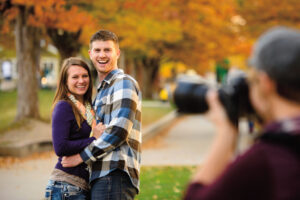 It's because of that careful forethought and attentive planning that Hurley says professional portrait sessions will entail at least three separate appointments: the first one, to define and set the goals for the project; the second one, the photography session itself; and the third one, to preview and select images. He says that the difference between what he calls hobby photographers and professional photographers is often the depth of service provided; if you just do the step in the middle (the session itself), you're missing out on the benefits of professional services.
Hurley says that a besides lending an artistic eye to the subject in front of the lens, a professional photographer can also help you decide the best way to display your images. He says professional photographers can help you decipher which images look best hanging on a wall versus in a book, or which ones will look best in a frame on the desk or as a holiday card.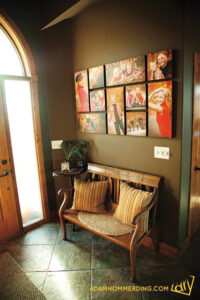 Photography Geography
When his primary assignment is to provide a portrait to hang in a specific place in a client's home, Hurley says he visits the home so he can see that spot for himself. He explains, "I will photograph the place where the portrait will eventually hang so that when we meet to review proofs after our photo session, I can show you exactly what your portrait is going to look like. I have software that I can use to mock it up. Then, we can play with layouts and try out different processing techniques to see what the final product will look like in your home."
Since certain settings—both the location where the portrait itself is staged and the place it will hang in your home—will convey certain feelings and meanings, Hurley advises clients to put some thought into where the portrait will eventually hang when choosing the photography session location and the attire to be worn. "That family beach portrait might be perfect for the family room, but not necessarily the formal dining room," he explains.
To ensure you'll be pleased with the outcome of your photography session, planning and thinking through all facets of the project will be time well spent.

Hurley says that when asked "where" a portrait should be taken (at a particular location or in the studio), his answer always points back to the original goal of the assignment: do you want a framed photo for your desktop or something large for the mantel? The photo shoot's locale—the environment—might not be that important after all. He explains, "Unless your goal is for the environment to be the primary subject in the photo [instead of the people]—don't worry so much about the pretty place."
Since most photographers charge additional fees for photo sessions taken outside of the studio, this might be an important consideration as you plan for your portrait.
Casual Arrangements
Unframed photographic display techniques, like "gallery wrap" prints (sometimes called "canvas wrapped" prints) offer a contemporary look that's perfect for casual photos of children and families. Compared to matted and framed portraits hung under glass, gallery wraps are lightweight and easily moved. In fact, Hurley says he fulfills 75 percent of his wall portrait business through gallery wraps.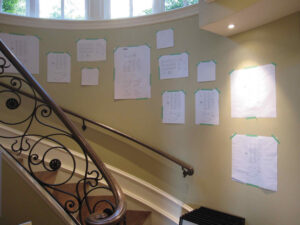 When deciding where to hang a photograph, it's important to think about the furniture and objects that will be around it—to anchor it, give it life and integrate it into its new setting.
One nice effect is to hang accompanying "found" objects or a small painting related to the scene in the portrait, to bring the display to life and tell the story of your family's memorable moment. For instance, a large family portrait taken by the seashore could be hung in a grouping that includes smaller, candid outtakes of individuals—plus a sand dollar, framed in an acrylic shadow box, found that very day. Casual arrangements like this thrive in odd numbers and a mix of textures and tones. A display like this would be ideal in the family room or kitchen—the family hub.
Dorsey Taylor of LinDor Arts, a local art gallery and framery, knows a lot about hanging pictures. Hanging a single picture on the wall is easy, right? So, Taylor recommends approaching a group of pictures in the same way. He says, "Visualize an imaginary frame around the grouping. This imaginary frame can help you with the horizontal and vertical placement of all the photos and will ensure that your group has an organized, cohesive look."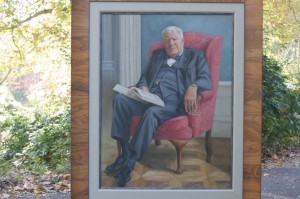 Before putting hammer to nail, Taylor suggests you should carefully work out your casual arrangement on the floor. Gather kraft paper, scissors, a pencil, a roll of painter's tape (it won't damage the finish on your walls), and a measuring tape. He says, "Trace and cut a template to the size of each photo and object. Shuffle them around until you find the arrangement that pleases you. Tape the templates on the wall and let the size and shape of your items determine the distance apart you should hang everything." Depending on the amount of wall you hope to fill with your casual display, consider spacing your items anywhere from 1 to 3 inches apart. Taylor says, "Let your eye be your guide. When objects are different sizes and shapes, there are no hard rules, but your arrangement will feel more cohesive if you select a width and remain consistent with it as you hang the other items in the group."
When hanging multiple pictures on an expanse of wall and contemplating the proper amount of space to put around each one, it's always a good idea to let a little math into the equation, too. (Measure twice, hammer once…) You can use an old- fashioned measuring tape and a jot pad, or let an online picture hanging and gallery wall calculator do the math for you! The Internet is ripe with free online calculators; here's just one: www.datawranglers.com/tools/wallhanging/php.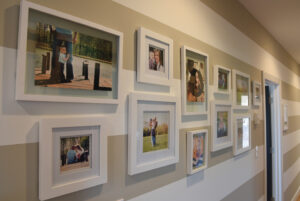 Gallery Walls go With the Flow
A gallery wall is a look that homeowners can use with great effect on a large scale. Whereas a casual arrangement will be of a smaller scale and tucked in among your decor, a gallery wall can consist of photographs hung virtually from floor to ceiling over an expanse. This arrangement is especially interesting because viewers take in the entire effect, rather than focus on just one piece. Hallways and stairways are great places to set up a gallery wall because these spaces tend to have a long run of wall that makes it easy to add more photos as life goes on. A gallery wall, in other words, evolves over time.
Hurley calls black and white photography "the great unifier" for times when it's difficult to coordinate people and their outfits—or if you're taking a new photo that needs to fit in with other photos that were taken at a different time, in different locations or with different people—such as in a gallery wall. He says, "A storyline progresses so well through black and white photography because the focus is on the faces."
Because a gallery wall has a wandering nature, some people like to add to the contemporary vibe by mixing in paintings and colorful prints with the photos. Doing so helps break up the sea of faces and allows the gallery to have a more organic, freeform feeling.
Taylor says that to stay in control of your gallery and create a sense of order, use plain, white mats (all the same width) and similarly styled frames to unify the diverse group. For the most uniform look, use identical frames. But if you want to embrace an eclectic look, you can mix things up by sticking with frames of a consistent material (wood or metal) and color (black, gold, silver, red or even natural wood), but allowing slight variations in style—beaded edges, scrolled edges, ornate frames, plain frames. Each image will dictate whether a thicker or thinner version of the frame will suit it best.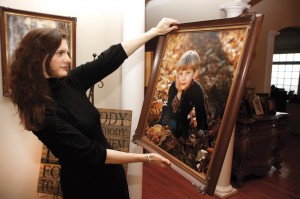 As with the casual arrangement, it's best to establish a layout for your gallery wall before you start hanging pictures. If you're just getting your gallery wall started, find the focal point of the wall and start your arrangement there. Choose two, three or even five pieces to be the landing pads for your gaze and place them near the middle of the gallery. Over time, your gallery wall will fan out from that point and eventually fill the entire expanse.
Remember, for most people, a gallery wall doesn't happen all at once—it grows over time. But, you've got to start somewhere, right? So that you don't end up feeling like you have a lone cluster of activity on an otherwise big blank wall, find the most interesting part of the wall to be your starting focal point. You might be living with your gallery this way for some time, until you can add to it and expand it. Not sure where it is? Look to the landing area in the stairwell or that bit of wall you first see when you enter the hallway and see if either of those spots beckons to you.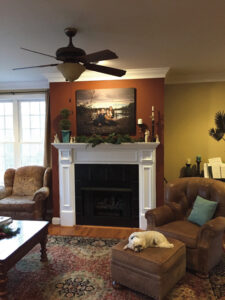 Formal Looks
When you have a particular theme you wish to uphold (or if you simply prefer a more formal look), have all the photos matted and framed in an identical style and size and hang them on the wall, evenly spaced apart. Whether you wish to display individual portraits of your children, or a collection of wedding photos from several generations of family members, a symmetrical arrangement is the most formal display and perfect for a living room or foyer.
Your family's portraits are works of art, and an at-home gallery is sure to enliven your home with great personality and flair. After careful planning, perhaps even with the help of a professional, you can admire your family's beauty on a daily basis when you thoughtfully display their photographs throughout your home.
BEFORE & AFTER TIPS FOR YOUR PHOTOGRAPHY SESSION
Kevin Hurley and Dorsey Taylor share their top tricks for family portraits
Photo flatterers:
■  Keep outfits simple (without patterns or logos) so
the focus remains on your face.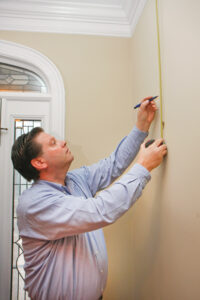 ■  Get your hair/makeup professionally done before your portrait session. It will make you feel beautiful—and that feeling will show in the photograph!
■  Make sure everyone is touching in a group photo. Touching, quite literally, connects people! It's impossible not to smile when you're touching someone you love! When people touch, you get
real smiles.

Hanging your portrait:
■  Use a nail and a hooked hanger when items weigh between 1 and 5 pounds; use a nail that's at
least 1 ½ inches long and hammer it into the wall at an angle (the hanger will guide the nail
for you).
■  Use a screw when the wall hanging is between 5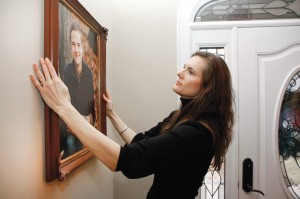 and 50 pounds. Starting at 15 pounds, that screw should also use a plastic wall anchor. The screw should be drilled in at an angle and should be at least 2 inches long.
■  Whether using a nail or a screw, it is always best to find a wooden stud to hammer or drill into because it will give you the strongest hold.
Gallery, Gallery Wrap, Hanging Photographs, Kevin Hurley, LinDor Arts, Matted and Framed, Photographs, Photography Geography, Photography Tips, Portraits