Southern Charmer | Historic Home Revamped by Top Area Builders and Designers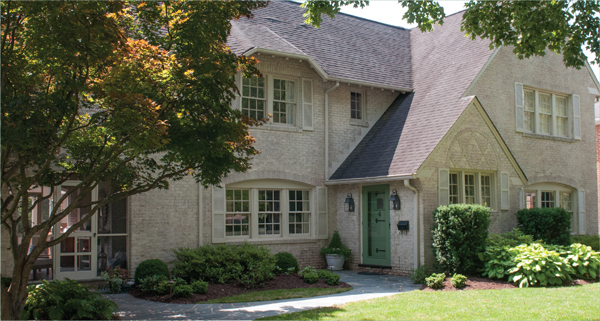 THE HOME WHERE THE CULLEN FAMILY LIVES IS ONE THEY LOVE, BUT IT WAS NOT LOVE AT FIRST SIGHT.
While living in another house in the neighborhood, Amy Cullen had passed the stately buff brick home in South Roanoke on walks time and time again. With their family of four, Amy and her husband, Thomas, were getting the itch to move into something more spacious. But when the 1925 Tudor-style home came on the market, Amy, a real estate agent with MKB, initially continued to walk on by. "I passed it often," says Amy, "But I typically like a colonial style, and a symmetrical front." Though the outside did not pique her interest, she decided to give it a chance and take a look inside.
---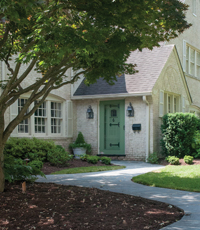 Amy Cullen is a member of Roanoke Valley Garden Club, and worked with landscape designer William Middleton to update the home's outdoor areas.
---
Ultimately the home, with its multi-gabled roofline, side screened porch, and character in spades, won them over. With two rounds of major renovations and help from several area professionals, the Cullens' new home is comfortable and stylish, and a great fit for their family, which includes a daughter and son in elementary school. However, it wasn't smooth sailing from the outset—the family moved in on the same day as the "derecho" windstorm event of 2012, and ended up spending their first night after closing in a hotel.
"We were amidst all these boxes, trying to get our bearings, and the power went out. Suddenly everything was pitch black," remembers Amy. "The kids were little, and we weren't familiar with the house so it was worse in the dark, we couldn't see a thing… off to the hotel we went." The kids then went to stay with Amy's parents in Kentucky, where she was raised, while she went about setting up the family's new home, albeit in less than ideal circumstances.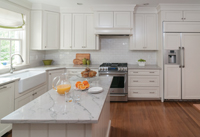 Rolling with adversity came in handy later, when the family embarked on the first major renovation, which involved gutting the old, cramped red kitchen to make way for a more functional, updated space. While the kitchen was out of commission, a stove was set up in the garage for cooking meals. "I remember a nice day when I was cooking in the garage with the door up, and I'm waving to friends while cooking a pot of chili," she laughs.
Robert Kulp, of Blue Ridge Residential, designed an updated white kitchen with an airy feel.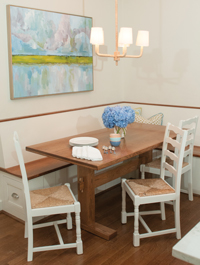 Reworking the kitchen space was a challenge, with multiple windows cutting down on available cabinet space and an adjoining laundry area that felt misplaced. Robert Kulp of Blue Ridge Residential, Inc (and president of Black Dog Salvage) helped the Cullens solve the dilemma by creating a basement laundry room, where he repurposed the original kitchen sink and some of the cabinets. This opened up needed space in the kitchen and, along with eliminating two windows, created better storage and flow. While both Kulp and the Cullens hated to sacrifice the natural light, the kitchen retains an airy feel with a white-on-white palette—creamy semi-custom cabinets are topped with white Macaubas quartzite, and clean white subway tile finishes the look. Luckily, the remaining large window over the farmhouse sink provides adequate natural light, as well as a view of the driveway and side yard where the kids often play.
A kitchen banquette, made of salvaged pews from the church the family attends, is paired with a custom oak table.
Kulp also added a small kitchen island for additional prep space, which overlooks a banquette where the family eats casual meals and spreads out homework. The custom oak table, made by local craftsman Coy Hodges, is a perfect fit for the space, and the banquette is made of salvaged pews from St. John's Episcopal, where the family attends church. Chairs that Amy already owned were painted by Creative Finishing in Roanoke to match the cabinets. Above the banquette, a rope-covered chandelier lends casual flair and doesn't compete for attention with a Carson Price painting, a find from local design shop, Magnolia.
---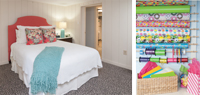 The basement includes a gift wrap station and a fun guest bedroom with coral upholstered headboard and leopard print carpet.
---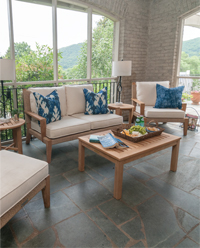 The new basement laundry room was spacious enough to allow Amy to add a craft and gift wrapping area, where she decorated the walls with her children's art from school. "It just makes me smile when I come down here," she says. The basement also has a playroom that serves as a second family room, and houses the piano from Amy's childhood home, which both the children play. Off of the playroom is a guest suite, which the Cullens renovated for Amy's parents and other friends and family who come to town. The queen size bed features a headboard upholstered in coral fabric from The Second Yard, a South Roanoke store, while the eye-catching leopard print carpet was Amy's find from Green Front Furniture in Farmville. The compact private bath is light and bright with a white palette, and was another Robert Kulp project.
The basement exits to a walkway leading to a separate and spacious twocar garage. "It was one of the things that attracted us to the house. It's so difficult to find garage space in this neighborhood," says Amy. To the left of the garage is a nice, flat expanse of yard that the Cullen kids use for soccer games and play. An additional smaller garage, original to the house, serves as storage for bikes and gardening tools.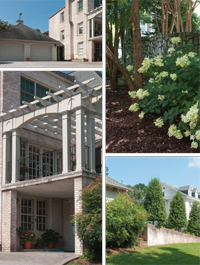 While Amy enjoys gardening and is a member of the Roanoke Valley Garden Club, she called upon Roanoke landscape designer William Middleton, of LandArt, to help with her home's outdoor spaces. Middleton removed the existing overgrown boxwoods, and designed and planted a new landscape in front of the home. Amy is thrilled with the results, and enjoys maintaining and working on the outside of her home, as well as the inside. In fact, she and a good friend put in hours of sweat equity to unearth a stone wall in the backyard that was hidden with ivy. "Only a very great friend would do that with you," laughs Amy, who can now admire the stone beauty that frames her yard. Amy isn't the only Cullen who loves the outdoors; her husband enjoys spending many an early morning or late evening on the screened porch. In previous homes, the Cullens had to add screened porches, but this one had one ready made for them. It is perched seamlessly on the side of the home, and exits onto a flagstone walk that leads around to the front yard, and the home's entrance.
The two-story foyer features a classic Tudor front door and wrap-around staircase.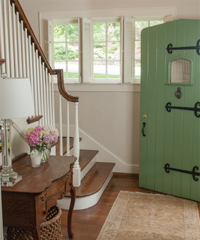 The front door is a classic Tudor-style plank with strap hinges, painted a sage green, which gives way to a foyer with a wrap-around staircase that hugs the wall. The foyer light, the Darlana Lantern from Visual Comfort, was purchased from Magnolia, and highlights the two-story foyer and surrounding stairs.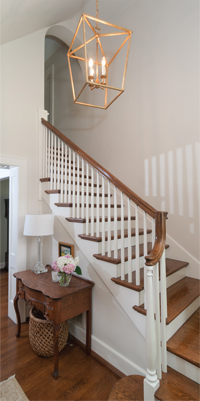 Through the foyer is the living room, which is painted in a subdued blue (Benjamin Moore Blue Veil) and was decorated by Elaine Stephenson, a fellow garden club member and longtime Roanoke interior designer. A creamy sofa faces two shapely chairs that flank a table, which Thomas' grandparents gave the couple as a wedding gift. In the corner is a desk from Amy's grandmother's house, and on a wall is a painting of the Jackson River, where the family has a weekend retreat. Thomas' father gifted it to him, a reminder of the weekends spent fly fishing and relaxing. A built-in bookshelf houses Thomas' collection of books, memoirs and biographies. Portraits of the couple's children also hang in the living room and were done by Stella Hart, a North Carolina-based photographer who has worked extensively in Roanoke
---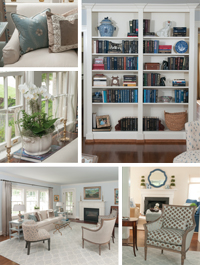 The blue and cream living room was decorated by interior designer Elaine Stephenson.
---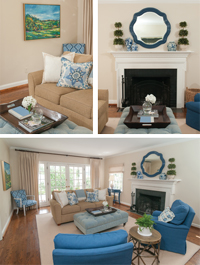 Through the living room is the family room, where the Cullens spend downtime. The room came together with help from esteemed Richmond designer Suellen Gregory, with whom Thomas' sister works. A wood-burning fireplace makes for a cozy spot on cold nights, and french doors lead to an outdoor veranda, which has been a favorite spot for parties and guests. "We got married on Derby Day, and we've often had a Derby party—it's a great spot to sip a mint julep," says Amy.
The family room came together with help from esteemed Richmond designer Suellen Gregory.
A colorful Maria Driscoll painting that Amy's girlfriends commissioned for her 40th birthday hangs near the french doors. It's a landscape of her hometown of Versailles, Kentucky. "I cried when I saw it," she says, touched by both the beauty of the painting and the gesture.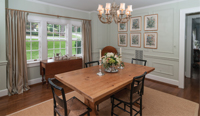 Rounding out the first floor is the dining room, which holds framed prints from Amy's childhood home and a sideboard flanked by the highchairs that she and her brother used as babies. A handsome grandfather clock—from Thomas' own grandfather, appropriately—keeps time outside the entrance to the room.
---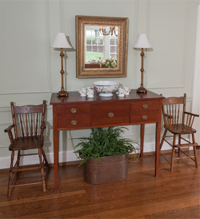 The dining room holds family heirlooms, including high chairs once used by Amy and her brother.
---
The second major renovation to the home was upstairs, and was handled by Steve Morris of Classical Design. "Steve has a great eye, and brought so many really wonderful ideas to us of how to rework the upstairs space," says Amy, who speculates that the reason the house did not sell quickly was because of a quirky upstairs layout which involved "captive" bedrooms (meaning you had to go through one bedroom to get to another). Classical Design fixed this issue, creating a stunning master bedroom, en suite bath, and custom closet.
Steve Morris of Classical Design and Jessica Durham of Magnolia revamped the master suite. The bath includes heated marble floors and a freestanding tub.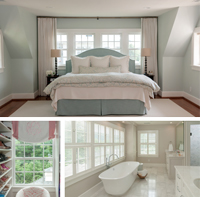 Jessica Durham, owner of Magnolia, helped bring the master bedroom to completion with custom-made curtains and a rug. The master bathroom has a freestanding tub in front of a bank of windows, heated floors and marble on every surface, including topping the white cabinetry. The bathroom leads into a large closet, with the left side for her and the right side for him, and includes a second washer and dryer for easier living.
The children's bedrooms and an updated hall bath—also part of the renovation—complete the upstairs level.
While many different designers, builders and artists had a hand in shaping the Cullen home, it is distinctively theirs—filled with treasures from their childhoods and meaningful gifts from dear family and friends. Though the house is sometimes called the Sydnor house, after previous long-time residents, the Cullens cannot imagine another family calling it home anytime soon.
Photography by Kevin Hurley
kitchen island, multi-gabled roofline, salvaged pews, side screened porch, Tudor-style, twocar garage, wood-burning fireplace, wrap-around staircase