Charming Chairs -A Look At An Age-Old Favorite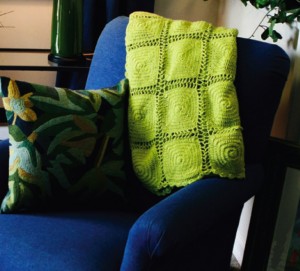 Sacre bleu! I knew there had to be a reason that I am a bit of a Francophile. Along with champagne, Monet, Gerard Depardieu and wine bars, the French are generally credited with having developed what has become the modern incarnation of the armchair. In fact, the word armchair (chaise a bras) was coined in 1636 to refer to a chair that was "convenient for conversation" and could be easily moved. No longer a rustic creation of just hard wood, the armchair was upholstered with fabric or embossed leather for a more comfortable sitting experience. The armchair trend resulted in the first truly lightweight and comfortable chairs, from which an entire class of upholstered chairs has evolved, including club chairs, wing chairs, and a variety of chairs characterized by seat heights more convenient for uses other than at a dining table or desk, such as slipper chairs and lounge chairs.
As I sit typing away in my comfy wing-back chair with its ample arm rests (upholstered in a toile de Jouy pattern which lends itself nicely to this article's vibe), I am ever so grateful to Louis XIV, whose reign beginning mid-17th century catapulted France to the forefront of sophistication. While the Sun King himself is not directly responsible, of course, for inventing the armchair, one can perhaps make the leap that his somewhat obsessive campaign to turn France into the capital of style and good taste created a marketplace where everything—glass, rugs, furniture—emerged a plusher, more opulent version of its former self. Of paramount importance to the King was the decoration of Versailles, his official residence. In order to beautify the huge rooms at Versailles, scores of craftspeople worked tirelessly to produce the most glorious and upscale products. As time passed, these types of items—including the humble chair—became available to other classes of citizens, rather than just nobility.
Glance around your home, and chances are you will find a variety of styles of chairs, each of which is designed for a specific function or accent. While chairs are a central and ubiquitous part of our modern lifestyle and décor, they served for many centuries as an article of status and dignity, rather than an article of ordinary use.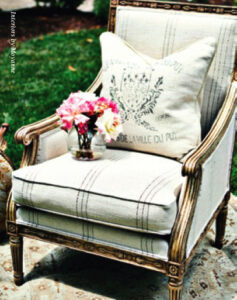 Not-So-Humble Beginnings
The word chair derives from the Latin cathedra, which refers to the chair or throne of a bishop in the Roman Catholic Church. Medieval chairs, religious or secular, were large, framed structures often outfitted with linenfold panels (wooden panels carved to imitate softly draped linen), and typically included a canopy or tester. To further convey the message of eminence, such chairs were typically placed on a dais so the occupant received the utmost respect. While kings, lords and bishops owned the honor of sitting on such ornate chairs, ordinary folk sat on backless chests, benches or stools.
In Europe, the Renaissance brought with it reforming attitudes about government, rights, religion and wealth (in addition to the cultural explosion). Along with other changes in societal beliefs, the chair ceased to symbolize privilege of state, and became a standard item of furniture for anyone who could afford to buy it. Once the idea of privilege faded, the chair came into general use, with styles changing every few years to reflect the fashions of the day.
Some Common Styles
From medieval churches to glorious Versailles to contemporary times, the chair can fit any need, look or lifestyle. While today's homeowners have access to a worldly wealth of chairs, sometimes the terminology can be confusing. Here, learn
the names and attributes of some of the most popular styles today.
BARCELONA CHAIR: Designed in 1929 by the German architect Ludwig Mies van der Rohe and widely copied since, it is characterized by leather upholstery, an angled seat and back without armrests, and X-shaped steel legs.
BERGÈRE: An upholstered chair, introduced in the Regency/Rococo period in France in the 17th century, the Bergère typically has an ornate wooden frame and is fitted with a loose seat cushion.
CHAISE LONGUE: French for "long chair," this chair has a seat long enough to completely support its user's legs. Most Americans refer to this chair as a chaise "lounge." (Notice the difference in spelling.) The chair and the Americanization of the name have become synonymous with lounging, after all.
CLUB CHAIR: A plush easy chair with a low back. The heavy sides form armrests that are usually as high as the back. The club chair evolved into its present-day form from the gentlemen's clubs in fashionable urban areas of 1850s England.
CHESTERFIELD CHAIR: A low, club-style chair with a tufted interior, typically made of leather.
EASY CHAIR: Any large, comfortable upholstered armchair.
EAMES CHAIR: Say the word "Eames" and invoke images of a sleek, contemporary look. This chair is made of molded plywood and leather. Developed by designers Charles and Ray Eames in 1956, the chair was contoured to fit the shape of a person.
FAUTEUIL: Originating in 18th-century France, the Fauteuil is an open-armed chair with considerable exposed wood. It is typically upholstered on the seat, the seat back and on the arms. The exposed wooden elements are often gilded or otherwise painted.
PAPASAN CHAIR: A large, rounded, bowl-shaped chair with an adjustable angle similar to that of a futon. The bowl rests in an upright frame made of sturdy wicker or wood.
PARSONS CHAIR: Known for its clean lines and named for the Parsons School of Design in Paris, where it was created. Widely copied, Parsons-esque chairs are often used in dining rooms. The back of a Parsons chair can be straight, camel backed or scrolled. Parsons chairs can either be armless or have upholstered, scrolled or wood-exposed arms.
RECLINERS: Most are armchairs and may come with a footrest that unfolds when the back is reclined.
SLIPPER CHAIR: A low-slung chair designed to be used as an accent chair. Sporting a very clean design, the slipper chair features two rectangles for the seat and back of the chair, with no arms. Slipper chairs are especially convenient for dressing rooms, as the height makes it easy to put on or remove shoes (hence the name).
WINDSOR CHAIR: This classic, informal chair is usually constructed of wood turnings that form a high-spoked back, and is often topped by a shaped crest rail, outward-sloped legs and stretchers that reinforce the legs. The seat is often saddled or sculpted for extra comfort, and some Windsors have shaped arms supported by short spindles.
WING CHAIR: An upholstered easy chair with large "wings" mounted to the armrests, and enclosing the upper part of the body. Originally, these chairs were designed to provide comfortable protection from drafts. A variation is the Queen Anne Chair.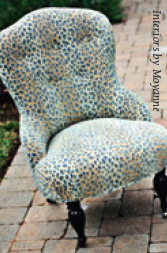 The Experts Weigh In
Roanoke Valley experts of decorating and design share their ideas about their favorite chairs.
Jolene Boor (Dekor): "I love a chaise lounge. They are so comfortable, and I especially love those with down-filled cushions. I've got to have my feet up to be totally comfortable!"

Tom Faezell (Grand Home Furnishings): "Definitely a Fauteuil—it's a beautiful, graceful French armchair that I have in my living room. The fabric has a lot going on: It's cranberry, aqua…it's what I would describe as a 'Rococo Riot' with a pale grey distressed wood finish."

Susan English (Mostly Sofas): "There is a Norwegian-made chair called the 'Stressless' that I adore. It resembles a modern-day Eames chair in its design, and is made to hold anyone's body in suspension for maximum relaxation. It is made of leather and comes in all sorts of colors (even lime green!) as well as traditional black and brown."
Diane Poff (diane poff interiors LLC): "My favorite chair is the upholstered-seat dining room arm chair. There are usually two per dining room, and they can travel anywhere in the house, with a low-cost fabric change for the seat. They are easily used together or alone, or in formal, eclectic and/or modern settings. Also, pulling them from the dining room does not create a noticeable vacancy."
Bob Baskette (Reid's Fine Furnishings): "We have a Stickley recliner here, which is a great quality chair. It's got a bustle back, which is like a built-in pillow. It's extremely comfortable."
In the Market for a New Chair?
If your fancy has been piqued by visions of Versailles or by the excellent ideas from area designers, consider the following while shopping for chairs:
FILLER: The three types of stuffing available for cushions are foam, down, or a combination of the two. Foam springs back into shape, while down filler requires constant fluffing to maintain the look of the cushion. Cushions with foam core surrounded by down offer the best of both worlds.
FABRIC: Make sure that your fabric choice works for both the frame style of your chair and your lifestyle. Take into account how often the chair will be used, and how often the chair will be subjected to children, pets and sunlight.
SKIRTS: A variety of chair skirts are available to provide a finishing touch to your piece. Determine whether your décor will be enhanced by a detailed skirt (shirring or box-pleat) or if you will skip the skirt for a cleaner look.
LEG STYLES: The most common are turned (which suggest an antique pedigree), bun feet (picture plump and rounded), and straight (giving the piece a modern, strong-lined look).
From a simple wing back to an ornate Bergère, the chair might just be the hardest-working piece of furniture in our homes. Its warmth, style and hospitality add that special je ne sais quoi to any room.
Resources
Domino: The Book Of Decorating, Deborah Needleman, Sarah Ruffin Costello and Dara Caponigro, 2008
French Country Living, Caroline Clifton-Mogg, 2004
Great French Country Style, Michele Keith, 2006