A CUT ABOVE: Local Butcher Shops Focus on Customer Service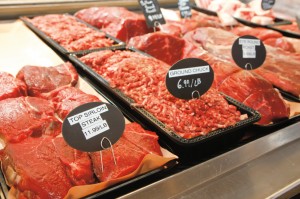 As the weather warms and cookouts are right around the corner, there is one thing all self-respecting cooks should have in their back pocket: The name of a good butcher.
Luckily, in the Roanoke Valley, there is no shortage.
Although the funky apron, oversized spatula and branding iron are cool tools in a griller's arsenal, you have to start with good meat. And the best source for good meat is your local butcher—someone who works as both a consultant
and a culinary artist.
Just ask Todd O'Brien, of O'Brien's Meat Market in Salem. The difference between being someone who just cuts meat and a butcher, he says, is deeper than just understanding the physical characteristics of meat; it's about forming relationships with customers.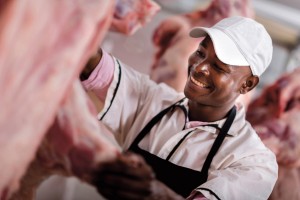 "Very often, customers want to know what types of cuts they should buy for particular dishes," he says. "We offer them information, as well as help with the quantity needed to feed a given number of people, and we offer recipes and cooking tips, too."
It's a Family Thing
In a time before supermarkets—before meat came pre-cut and shrink-wrapped—shopping was a longer process. Meat was purchased from either a butcher or a corner store. The butcher supplied the meat, but also helped tight budgets go farther. He could offer cooking techniques to make tougher, cheaper cuts of meat taste more tender; he could suggest ways to stretch a cut into two or more meals, and could offer recipes.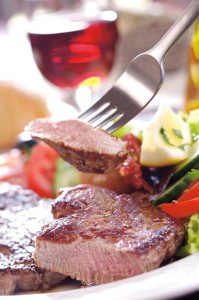 In the early 1950s, O'Brien's father, Conrad, got a job as an apprentice, journeyman, and head meat cutter before being sent to a rigorous meat-cutting school. There, he learned additional skills, including how to grade meat, how to identify the age of cattle by bone structure, the anatomy of cattle, and different processes of aging beef. In the 1960s, he worked as the first head meat cutter at the then-new Crossroads Mall Kroger. Once he earned a promotion as the store's regional meat buyer, he learned about procuring suppliers and buying large quantities of meat. In 1971, he opened his own store, and his sons have been with him from the start.
"My brother Tim and I grew up learning the meat business from our father, as well as from the other meat cutters he employed," says O'Brien. "The first meat cutter my dad hired, Mark Able, is still with us in the Salem store today. Mark was a mentor to me when I was younger. I learned a great deal from him, and continue to do so."
Across town, Rett Ward was also learning about his family's business: Tinnell's Finer Foods. Founded by his grandfather, the grocery store became well-known to those in Roanoke and beyond for its cooked Smithfield hams and terrific steaks.
When his grandfather was running the store, Ward says, he would go to fairs and handpick which animals would be slaughtered. Now, he explains, it's rare for Tinnell's to get whole sides of meat because so much would go to waste.
"Our butcher has learned over the years from our customers about what they want," says Ward. "Our general meat sales are prime cuts, which is the highest grade. Our business model is built on the fact that if we're not eating steak as often, why not spend the extra two dollars per pound and get the best."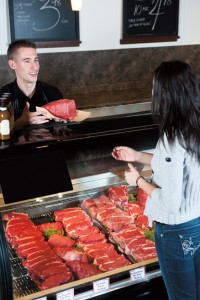 Customers are King
The draw to the butchers' cases, besides the beef, pork, chicken and charcuterie, isn't rocket science, say the store owners: it's customer service.
These businesses—both of which are family-owned and relatively small—are built around the idea that happy customers will return. They also know their inventory, and many of their customers, if not by name, then by sight.
Running behind but still needing that ingredient? O'Brien's will take orders over the phone. Over at Tinnell's, customers are still able to put items on their account, and have orders delivered. Both places make every effort to fill special requests.
"Customers who must avoid nitrates and other curing chemicals often request pork bellies, fresh hams, pork butts, and even small whole pigs," says O'Brien. "We can accommodate that. We also get requests for meats that have not been injected with hormones, and we carry that as well."
What they don't carry on a regular basis is ostrich. Still, when a customer asked for some, they were able to get it. Ditto for alligator meat.
Ward says he's worked very hard over the decades to forge great relationships with distributors, so that when an unusual or special request comes in (like the one lamb shoulder last Easter), he's able to deliver, quickly.
He's also beefed up the beer (microbrews are a growing trend, he says) and wine selections at the store. A beverage manager stocks hard-to-find, highly rated but reasonably priced selections, and is happy to offer pairing advice for everything from a dinner for two to a party for 100.
For those who are tight on time, Tinnell's prepares—either fully cooked or ready to sauté, roast or barbecue in 15 minutes or less—specialty items daily, including chicken tetrazzini, baby back ribs, rotisserie chicken and hand-pulled, smoked pork barbeque.
"We love to help our customers eat well, and with ease," says Ward.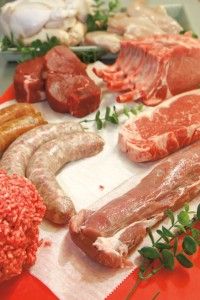 What's Cooking?
Another part of what's fueling the movement toward specialty stores is the rise of the "foodie" culture—people with refined tastes who make eating and drinking a hobby. They are educated, but they also like to try new things.
Enter the butcher; a good one will, at a minimum, offer advice on how to cook certain cuts. They can also provide recipes and even suggest side dishes.
Take, for example, beef. The most tender cuts, which come from the center of the animal where the muscles are not used as much, are generally the more expensive cuts. These cuts include tenderloin, ribeye and strip steaks. Because these consistently taste good and are easy to prepare, these are some of the more commonly sold cuts. But butchers say there are also less expensive cuts that can taste just as good, or better, when prepared correctly, such as skirt, hanger and flat iron.
A butcher can also encourage you to try different kinds of meat you might not have considered before. Many foodies also identify with the increasingly popular "nose-to-tail" philosophy, in which no part of an animal is wasted. Roanokers, says O'Brien, are part of that movement.
"Perhaps the biggest trend lately is for organ meats, known as offal," says O'Brien. "We carry beef tongue, hearts, liver, along with pork brains and pork intestines. Another popular request is for meat blends, such as bacon ground with beef, beef ground with lamb, or beef ground with pork."
The butcher-as-artist comes into play to make sure the meat is trimmed properly, at the right angle, so customers are getting less waste, and the meat will cook evenly and taste as it should.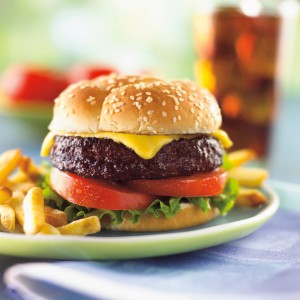 At What Cost?
Butchers suggest another benefit of going to a specialty shop is that you are in control of the portions. You only need an ounce of bacon for your dish and not a pound? No problem: two slices it is. You are cooking for two and only need one chicken breast? Done. So customers aren't paying for things that they aren't using.
For the rare customer, cost is not an issue. Ward says there is a farm in Lexington that raises a specific breed of cattle that brings $100 per pound for tenderloin. And he can get that, he says, but it's not the norm.
More common are those who view the butcher as a special occasion treat, say at Christmas or Easter.
Ward says Tinnell's is "slammed" at the holidays—the store cooks and ships hams all over the country, sells at least 60 whole beef tenderloins and prepares another 300, offers standing rib roasts, leg of lamb, and hundreds of turkeys—and he loves it. Such orders are usually for people planning tricked-out holiday meals for a crowd, and their bill might be higher than the norm. This may be off-putting on other days of the year, for the everyday grocery shopper…but if one-timers average out the cost of buying from a butcher throughout the year, O'Brien suggests they might find that a specialty shop is no more expensive than a supermarket, the quality is usually higher, and the products much more reliable.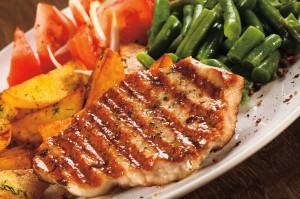 "Our customer base is as varied as the population," says O'Brien. "We have customers who are looking for the best possible prime cuts as well as those who are trying to feed a family on a small budget."
O'Brien's also offers cost-saving specials, which bundle different amounts of meat and various cuts, that cost from $30 to $80.
The bottom line is this: specialty shops want your business and will work hard to keep it. You can be proud to support local businesses, for reasons as varied as keeping more money in the local economy to just supporting the commitment to the community that these families make. Quality products at these smaller shops may get the customers in the door, but their devotion to customer service is what differentiates them.
"If we can't do something fantastic," says Ward, "We won't do it."
Cuts of Meat, Local Butchers, Meat Expensive Cuts, Microbrews, O'Brien's Meat Market, Smithfield, Smoked Pork, Strip Steaks, Tinnell's Finer Foods